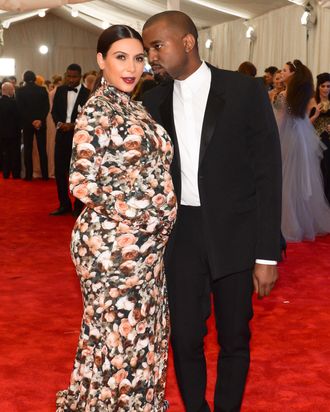 Photo: Joe Schildhorn /BFAnyc.com/BFA NYC
Pregnant Kim Kardashian has had a rocky couple of months, suffering from all sorts of ailments including "pregnancy lips," circulation-cutting ankle straps, and flesh-covering glove-arms. But Kim's daring sartorial choices have caught the attention of artist Daniel Edwards, the man who once sculpted a topless Scarlett Johansson cradling zombie heads, Angelina Jolie breast-feeding, and Britney Spears giving birth on a bearskin rug.
His latest work, titled L.A. Fertility, is a life-size, nude sculpture of pregnant Kim. "I was inspired by the beauty of Kim Kardashian and felt quite put-off by the media's criticism of her weight gain during pregnancy," Edwards explained on his site. "Such criticism should be off limits." According to Edwards's publicist, the sculpture features "lactiferous breasts" and a "voluminous belly" that gallery attendees can rub "for good luck and success."
In addition to being able to touch Kim's belly, people who attend the exhibition will also be able to see sculptures of a crowned "Royal Fetus" — based on Kate Middleton's ultrasounds — and Kimembryo flying around with wee cherub wings. The sculptures will debut in Los Angeles at LAB ART Gallery on June 5.