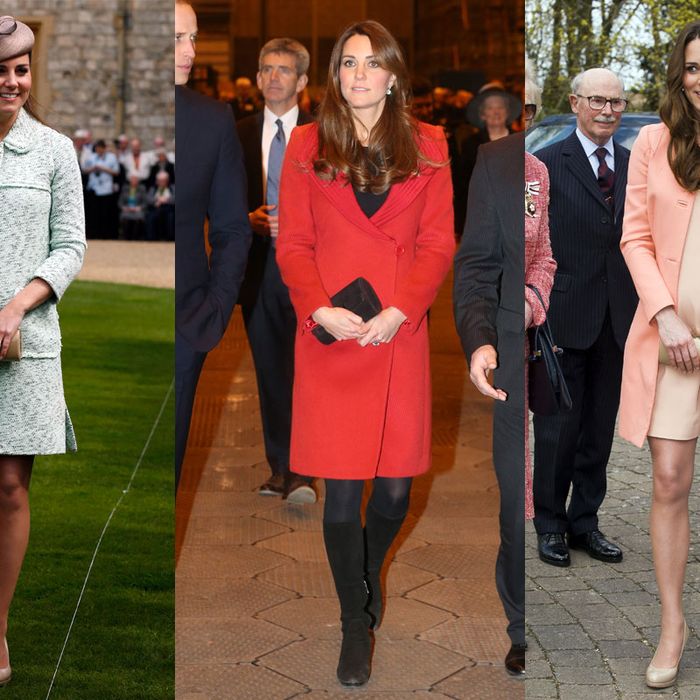 Kate Middleton.
Photo: Getty Images
Kate Middleton's penchant for small clutch purses has been well-documented for years. For her, they mostly serve as a place to put her hands rather than a receptacle for useful objects (she has "people" to carry stuff like lipstick, a powder compact, extra deodorant, hairspray, a lint-roller, headphones, and all the other crap most women schlep around with them). For all we know, those absurdly tiny bags could be totally empty. She usually clasps them with both hands in front of her stomach, which previously ignited pregnancy rumors (she was covering her tummy!) and now serves to highlight her growing belly, as the pose frames her midsection.
According to handbag designer Lulu Guinness, Middleton's fondness for tiny purses has sparked a trend. "If she's done anything for the handbag, it's the fact that she wears small clutch bags," she told the Telegraph. "Personally, I am making my clutch bags smaller next season, so they're more delicate and ladylike, and that's to do with her, I think." What a bother for the rest of us.
If you're going to carry one of these tiny clutches, you have three choices: (1) Convince one of your more reasonable friends to put your stuff in her normal-size purse, and make her hate you every time you ask for your phone/wallet/hairbrush; (2) Just put everything in your pockets, or (3) Bring nothing but your keys, I.D., and a credit card, and risk forgetting to put them back in your normal wallet the next day. Not to mention, you've got to juggle it around all night while you attempt to hold drinks, eat hors d'oeuvres, shake people's hands, blow kisses, slap friends' butts, etc. None of these alternatives are particularly favorable.
Of course, if you're in need of something that'll keep your hands occupied while you nervously stand around and get your picture taken, then a clutch purse serves as a comfort object, which might be nice. Also, has anyone noticed that Kate never actually touches her stomach, unlike so many pregnant ladies? Instead, she holds her purse or clasps her hands directly beneath it. Is the universal "belly cradle" gesture considered déclassé in royal circles? Too Beyoncé, perhaps?