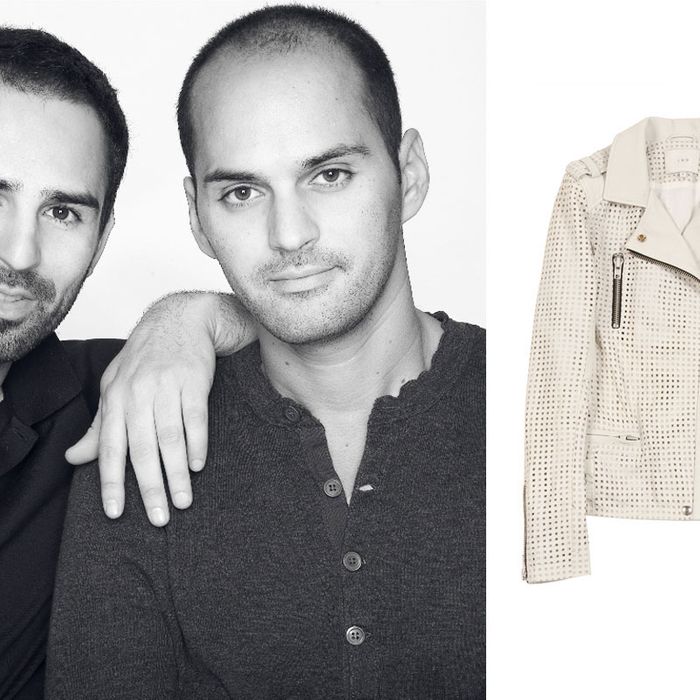 Arik and Laurent Bitton, the brothers behind the label IRO, took a roundabout route to starting a business. Back in the early aughts, Laurent moved to New York City to pursue a career in music as the lead guitarist and singer in a rock band. The group got a respectable following and signed with BMG in Paris, but they eventually disbanded after four years. Laurent then teamed up with his brother, Arik, to go into the family business: fashion.
Back in France, Bitton's parents ran Somebody, a ladylike womenswear line, for twenty years. That experience shaped the brothers' knowledge of the industry and gave them the necessary connections to start their own label. Starting in 2005 with a small collection of tees, jeans, and dresses, the brand quickly expanded around the globe. The Cut caught up with Laurent when the brothers were in town to celebrate the opening of their New York flagship store in Soho, where we chatted about the illusion of Parisian cool and the street-style circus.
Why did you shift from music to the fashion business?
When I saw the energy of New York and the fashion, it was similar to Paris, so we tried to unite the two. We wanted to have a cool feminine brand — very accessible, fresh, and sexy all at the same time. We launched the line while I was in New York, but most of the work and the design was in Paris, so one year after I moved back to help run the company with Arik.
How did you come up with the name IRO?
Actually, the name came about when I was in New York and working on the brand with my brother in Paris. Arik is one of those behind-the-scenes people, so it's called IRO as in hero, because you don't always see a hero but you see his work.
Working with your family must be challenging. Do you guys ever fight?
I couldn't do this without my brother. We are foreigners trying to make it, so we share everything. If I have $1, he has $1. What's the point of fighting?
The New York flagship comes after stores opened in many other countries like Spain and Switzerland — why did you wait so long?
The brand is special because we launched in Paris and New York at the same time, so it's as American as it is French. We started off selling to American stores like Barneys, Intermix, and Nordstrom at first, to introduce ourselves to the American customer. But seven years ago when we started, the girls on the street only wore Uggs and Juicy Couture. I told my brother that one day, they will get into this cool, casual style. I knew the mentality was shifting and I knew we always had to do something in America but it had to be the right time, which is now.
Soho has become very French, with Isabel Marant, Jerome Dreyfuss, and Vanessa Bruno all within walking distance. Was this intentional?
I chose this area because I had an apartment on Mercer and I would see people coming downtown to shop. They were into fashion and they come here because they'll find something cool here. It's not too showy.
Why do you think New Yorkers are so fascinated with French women? What is it about Paris that we American girls gravitate toward?
I think it's a fake image! It's true that people in America say they like the Parisian look, but I think that in the end, the New York girl or the L.A. girl is cooler. I see how they wear IRO here and it's cooler than Paris, because she doesn't match any other girl. New York is more rich in terms of style because New York is crazy. It's a crazy city.
What do you think about street style and the celebrities that emerge from the blogs? Is that why brands like yours are so popular now, because real girls wear it?
For many brands, pursuing street style works well, but for us the best clients are the everyday girls who are cool and enjoy life. I'm more about giving a chance to the real people because they have an interesting story to tell. At the end of the day, these are the people that make the company a success.
If a girl can only afford one piece from the collection, what would it be?
The leather jacket. It's perfectly fitted, short, and our best seller. If you feel the fabric, you'll see that the quality is very good for the price point.
Any hidden spots in Paris that someone should check out while they're in town?
There is a cool restaurant called Derriere. The word means behind, and it's because you walk in and there's a bar, but in the back there is a very cozy super-secret restaurant that all the fashion people go to. Otherwise, Paris is very conservative and you don't have many cool new stores besides Colette and Le 66 on the Champs-Élysées.
What about New York? Where's the one place you have to go while you are here?
When I come here I'm always so busy, but I really want to go see Iron Man 3 in IMAX 3-D! These are the things I missed when I left.