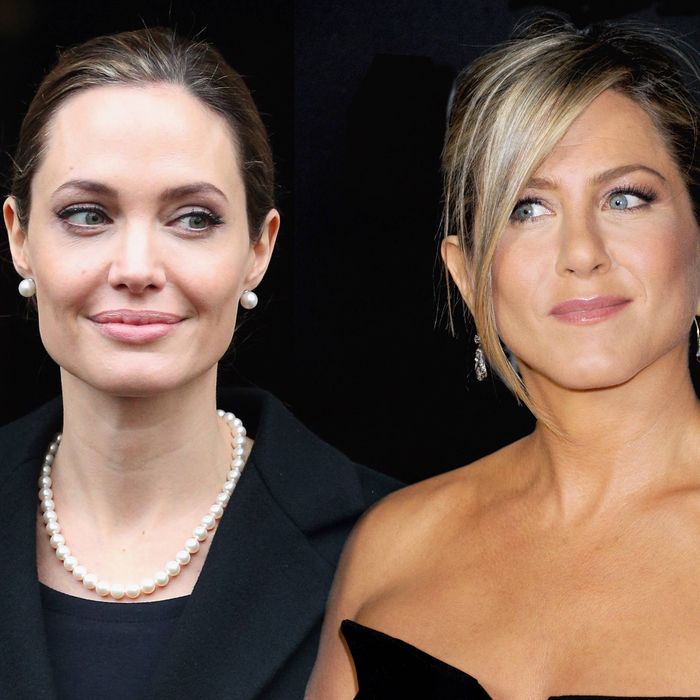 Photo: Oli Scarff/Getty Images, Gregg DeGuire/WireImage
Jennifer Aniston and Angelina Jolie are trapped in another female death match. After competing for the love of Brad Pitt, they are now competing for wedding dates. And, just as Angie won the first death match, Us Weekly reports that Aniston has cried "uncle" again:
Aniston, 44, has apparently pushed back her own big day to avoid any perceived overlap with her ex's big day this summer, sources reveal in the new issue of Us Weekly, on stands Friday.

"She does not want her day associated with them," one insider tells Us of the A-lister … Aniston has put wedding planning completely on hold. "Nothing has happened on that front in a month," the source tells Us.
That would suggest that the risk of overlapping wedding dates was so frightening that Aniston postponed indefinitely. Us points out a few other reasons, like Aniston's busy schedule (to say nothing of the tight schedules of stealth celebrity wedding planners) but for the sake of bridezilla etiquette, let's hash this out: Is it a faux pas to choose the same wedding weekend as an ex? Is this frightening only for famous people, or should mere mortals fear it, too?
Sharing a wedding date — or even just a momentous-party weekend — with an acquaintance, friend, or distant relative can be a hassle. Guests will be exhausted at best, forced to choose between two events at worst. (Is it even possible to go to two weddings in one day? If you get to skip the ceremonies, might be worth it. Strategize timing to maximize access to open bars.)
Nonetheless, there are only so many weekends per year and summer. When overlapping weddings happen, they tend to be more annoyance than faux pas. Nobody owns a weekend, but overlapping weddings means there will be jokes, and the brides risk discovering their loved ones' priorities are not as they thought. It's like friends choosing allegiances after a breakup, but on steroids. (Or for Jen and Angie, tabloids choosing allegiances.) The relationship between the brides is key. In reviled Hathaway-Hudson romantic comedy Bride Wars, wedding date overlap is a casus belli and a setup for slapstick humor.
But what about when the bride is marrying your ex? What about when the bride is the woman your ex left you for? Ex-girlfriend etiquette dictates that, when extra effort is required, the girl who got the guy should have the decency to go out of her way. Wedding dates, once chosen, seem too logistically complex to bow to that rule. If Angie and Jen ran into each other at Starbucks, Angie would be expected to give Jen some berth. If Angie selected a wedding date, sent out save-the-date cards, and booked a wedding band, however, she cannot be expected to undo it all to save Jen's feelings. According to Us Weekly, Jen is the one who can't stomach simultaneity, so she's the one shelving her plans.
But what if the dates haven't been set? Nobody expects a woman to check wedding dates with her fiancé's ex. But if a little bird tells you that your ex is planning a wedding in the same season — or month — as yours, how hard should you try to find out the date? How wide a berth must you grant them? A brief survey of wedding-planning message boards reveals reactions ranging from "major issue" to "bad omen" to "it's just a date" to "OH, HELL TO THE NOOOOO!!" On the other hand, if you quietly change your wedding date to spare a romantic rival's feelings, the bridal karma points should be worth at least two wedding-day diva tantrums.