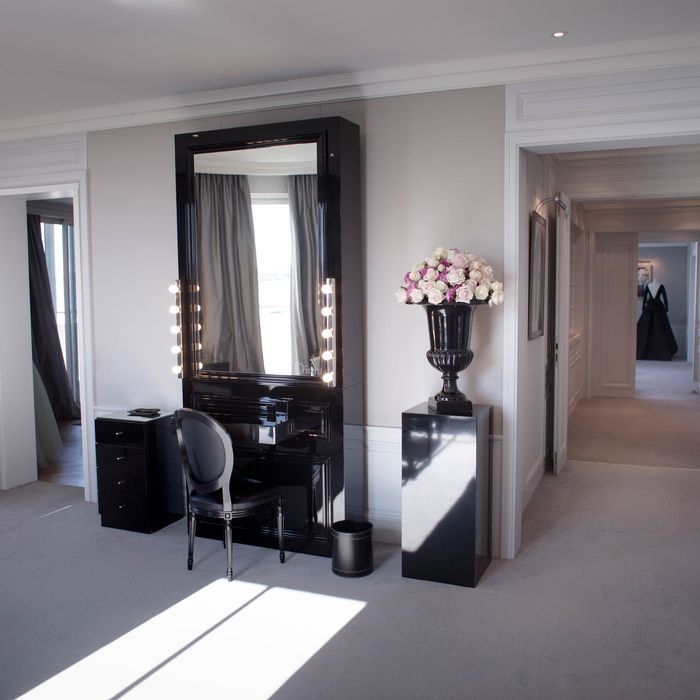 Every year at Cannes, Dior sets up shop at the Majestic — the massive five-star hotel on the Croisette that serves as base camp for film-festival shmoozing. While most of the showbiz crowd runs from event to event like crazed chickens, stars wearing Dior gowns to premieres are whisked up to the sprawling sixth-floor suite to be made up by pros before facing the flashing lights and screaming fans. Here, silence and calm reign: Spotless makeup stations are tucked into discreet corners; the nail bar is stocked with every color. All this is set off by the jaw-dropping sweep of the Mediterranean — and a bird's-eye view of the red carpet at the Palais des Festivals. And after finishing with a client, the makeup team gathers on the wraparound terrace to cheer them on as they climb the Palais steps. La classe.
Junior Cedeño, an international makeup artist with the Pro Team at Dior, has worked at the suite every season since its opening seven years ago. Here, he provides his three pro tips for a famous-looking face.
The Skin
"A lot of women use foundation like a mask, but with a good product you should only use foundation in the areas you need," he says. "Particularly in the summer when there is so much light, I love to use Skinflash Primer, but mix it with Diorskin Nude BB Crème. Apply it only in the middle of the face and blend outward with your hand so that it's like a second skin."
The Lashes
Tone down the fake lashes. "I love all the different lash trends, but right now it's not elegant or trendy to use obviously fake lashes in Europe —particularly in Cannes." For optimum eyes, Cedeño suggests using two mascaras. "First use a little waterproof mascara on the base of the lashes, and then use regular mascara to sculpt the rest. Cover the whole thing with another layer of waterproof mascara — as if you're making a dress around the lashes." Finally, open up the eyes by using waterproof eye pencil on the inner part of the upper lid.
The Lips
"Red is like haute couture," says Cedeño, so don't use a tube. To achieve a richer, more textured red lip, "first apply a deep red lip pencil, blending it to make a base, even if you're using a bright red lipstick. Then use your finger to pat the lipstick onto your lips, and add a few pats of Skinflash Primer. Remove the excess with a tissue, and top it off with another layer of lipstick." Cedeño adds that you can use loose powder in the corners of your lips to make them pop even more. (Follow this GIF tutorial on lip liner for some visual guidance if this all sounds a bit confusing.)
Even Cedeño confesses he's been shocked by makeup's power to transform — particularly when it comes to the stars. "Once, I arrived in the suite a little early, and started chatting to a woman who had a face-mask on. I mentioned I had an appointment with an actress I really admired, and that I was a little nervous. Finally she said, 'Okay, I'm ready now, let's go.'" Once she took off her mask, he realized he had already been speaking to his client: Glenn Close.