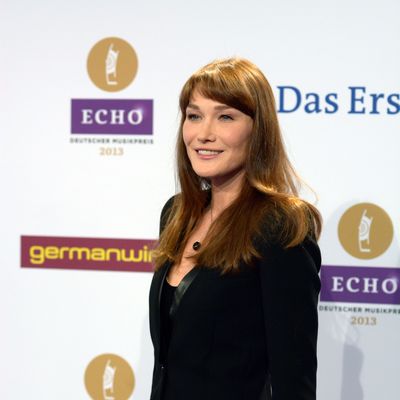 Carla Bruni.
Photo: Luca Teuchmann/Getty Images
Now that she's no longer France's first lady, Carla Bruni is back to singing, modeling, and being full-time fabulous. In a phone interview this week, WWD tried to get her to complain about the constraints of dressing for political duties, but she knew better than to complain about free clothes: "It was a pleasure," she said. "I worked with all the French fashion designers. It wasn't really work. I could borrow their clothes for official occasions, it felt easy and pleasant."
Apparently her new Bulgari campaign, which was shot by Terry Richardson, wasn't really work, either. "It did not feel like being a model," she said. Instead: "It felt like shooting in a nostalgic movie as the shoot was in Rome in magic places, outside time. It was the first time I was working with Terry Richardson." Outside time? Let's hear more about these "magic places," please.