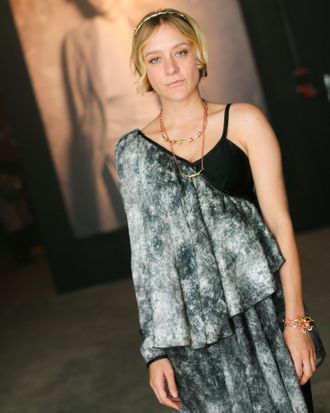 Chloe Sevigny.
Photo: David X Prutting/BFAnyc.com/BFA NYC
Last night, Chloë Sevigny hosted an event for Absolut Elyx vodka, whose ad campaign she currently fronts. In the spirit of flowing liquor, the Cut asked if she'd ever given a drunk interview, à la Gwyneth Paltrow last week. "I always say something I wish I hadn't, almost every time I interview, so I generally try not to drink too much at press events," she said. As for Paltrow's recent Met Gala tirade, she could sympathize:
Maybe her sleeves were too tight. If you're in a dress where you can't breathe, then you're not comfortable. I found that out the hard way after going five or six times. It's more important to be really comfortable in your dress. That was a big thing with Proenza Schouler, they made my dress this year. I said, 'I have to be able to lift my arms and move them around.' 

I think it depends on what table you're at, and who you're with, and obviously your attitude. But it's a lot of hoopla over not a lot. Everybody thinks it's so much pressure, and you do the carpet and it's such a big deal, and it's just a museum fund-raiser, you know? But you have to wear comfortable shoes and an outfit you can be okay in.
Oh, and she thought Debbie Harry's Met Gala performance was awesome, which goes without saying.