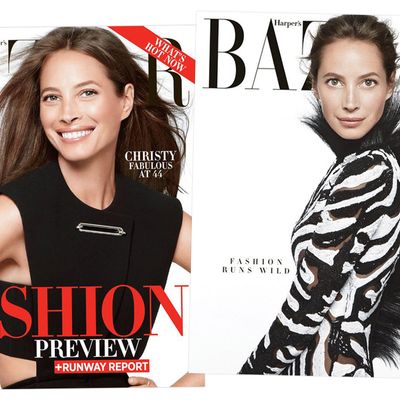 Christy Turlington.
Photo: DAniel Jackson for Harper's Bazaar
Forty-four-year-old model Christy Turlington has appeared in ads for Calvin Klein's Eternity fragrance for years, and now she's reprising her role as the face of their underwear campaign. (The line's previous model, Lara Stone, just had a baby.) This news comes with her June Harper's Bazaar cover, which has her in one of Alexander Wang's new Balenciaga designs. Although Turlington has contracts with Maybelline, Donna Karan, and others, this is more fashion coverage than she's gotten in a while.
Given all her humanitarian projects and the fact that she looks like she subsists on fairy dust, yoga, and early morning dew, you might assume that she's terribly serious and square. But she swigs wine and comes across as fun, even mischievous, in her Harper's Bazaar interview. She admits to feeling some (totally normal) apprehension about her state of undress in the new campaign, which was recently shot in Puerto Rico by Mario Sorrenti and will come out in September. "I'm healthy, I haven't done anything to myself, I exercise," she tells the magazine. "But … I'm not entirely comfortable with myself in underwear either!"
She goes on to check all the requisite supermodel subjects: plastic surgery, which she denies getting ("I feel like it's getting freakier"), and gossip about Kate Moss ("one of the funniest people I know"), Linda Evangelista (a "freaking hoot"), and Naomi Campbell ("she's really good — she'll remember a birthday"). But the best part of the interview comes when she admits keeping a giant photo of herself in her husband's bathroom:
I have a poster of me from the Mario Sorrenti Calvin underwear campaign on the back of my husband's bathroom door because we were dating at the time. He was like, 'I'm with that!' And I was like, 'No, you're not.' Today I'm like, 'You can remember that person, now that you know what it's really like to be married to me.'
Nothing says true love like looking at a picture of your hot wife while you pee.