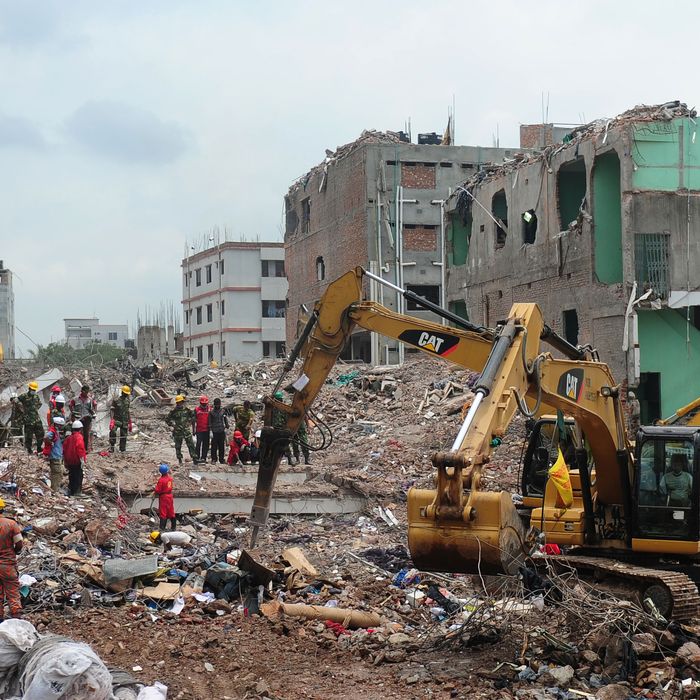 The collapsed factory in Bangladesh.
Photo: AFP/Getty Images
In the wake of the multiple disasters in Bangladesh, over a dozen major European brands have pledged to sign a binding contract that ensures higher fire and safety standards at manufacturing facilities in the region. Titled the "Accord on Fire and Building Safety in Bangladesh," the agreement was drawn up earlier this week by international workers' unions, mainly IndustriaALL Global Union and UNI Global Union. Participating companies include:
Arcadia Group (the British company that owns Topshop)
El Corte Inglés of Spain
Kik and Aldi of Germany
Stockmann
N Brown Group
G-Star Raw
PVH Corp. (the U.S. company that owns Calvin Klein and Tommy Hilfiger)
Tchibo of Germany
H&M
Inditex
C&A
Primark
Tesco
Meanwhile, some American companies are dragging their heels. Gap said they were "close" to signing the deal, but hasn't yet committed; Walmart says they're pursuing their own solutions. The only major U.S. brand to have signed it so far is PVH.
Regardless of their independent efforts, companies look bad if they refuse to sign this contract. Why on earth would they say no? Apparently it's because a lot of them had already started drawing up their own plans when this contract was introduced. Now they can't decide if they should switch course and join the agreement, which is mostly dominated by European companies, or proceed with their own plans, which are more specifically tailored to American trade requirements. In other words, it seems the industry's lack of cohesion is due to miscommunication and disorganization, not a lack of interest in improving the Bangladesh situation.
"Everything is in turmoil now," said an industry official, who requested anonymity. "What [U.S.] companies had been working on has now been overthrown by the deal with IndustriALL, and it is making it very difficult for companies to turn on a dime."

"Companies are now trying to figure out what works or doesn't work out in that agreement," said the official, adding that it appears most U.S. companies will not sign the IndustriALL-led accord … "Obviously, legal counsel at companies are very concerned about this accord, which they interpret as having open-ended commitments that you can be sued for not living up to. That is a nonstarter."
Obviously, it's in everyone's best interest to prevent more disasters (and the resulting bad press). A coalition of U.S. brands and retailers, which has named itself the "North American/Bangladesh Worker Safety Working Group," met yesterday to decide what to do. Chop-chop, folks.