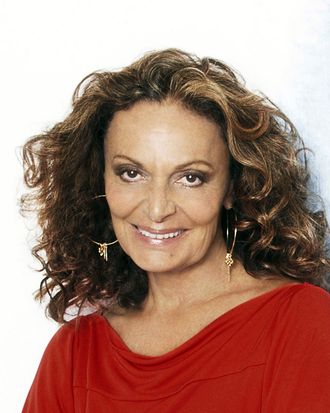 Diane Von Furstenberg solves your quandaries for the Cut. To submit a question, e-mail askthecut@nymag.com, or tweet @thecut #DearDVF.
Dear Diane: What is the perfect spring color? I'm thinking I need to get rid of a lot of black …  —@StellePRgirl
For spring, I am loving a bright cobalt blue. It is bold and chic, and I think it is unexpected, which is always nice. Also, black and white (that is a color to me!). Use what you already have, mix your black with crisp whites, and a pop of color here and there, and you are ready.

Dear Diane: What's an easy way to look chic? —@Marb_Reds
Don't try so hard! It has to look effortless, or it will not look chic. Don't be afraid to take risks, but also be true to yourself and wear what is most natural for you, because no one can do you better than you. I remember I had a phase where I chopped all my hair, moved to Paris, and had a literary salon, and I wore all of these neutrals and was very understated until I thought, what am I doing?! It may have been chic for the time, but it was not me, so it was not easy. Do you see what I am saying? 

Dear Diane: What is an essential piece that should be in every female's closet? —@sammydaugherty
A dress that is easy to pack and makes you feel incredible.

Dear Diane: What's worth fighting for in your opinion? —@DrrlSimon
The relationship you have with yourself, that is the most important thing — and always worth fighting for. Fight to never sacrifice yourself, because you can lose everything, but you cannot lose your character.
For more from Diane Von Furstenberg, visit her company's blog.