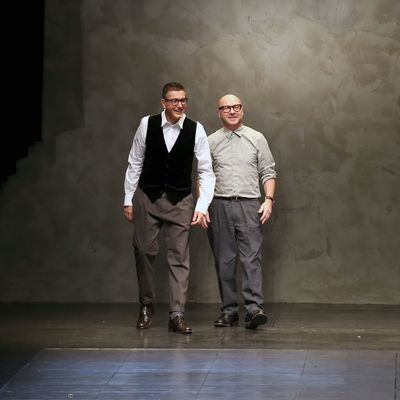 Dolce & Gabbana.
Photo: Vittorio Zunino Celotto/Getty Images
The Dolce & Gabbana tax-fraud case is like one of those trick birthday candles: Even when you blow it out so hard that you spit by accident, it comes back even stronger. Today in Milan, prosecutor Gaetano Ruta requested that designers Stefano Gabbana and Domenico Dolce, along with their associate Cristiana Ruella, be sentenced to two and a half years in prison for criminal tax evasion charges, WWD reports. This comes two months after Italy's Tax Commission ordered the designers to cough up 343.4 million euros, or about $440.2 million, in corporate taxes they previously dodged.
As you may recall, this whole mess stems from Dolce & Gabbana's 2004 "sale" to a Luxembourg-based holding company called Gado, which prosecutors believe to be a front for sheltering the company from the Italian tax man. The case has been batted around various Italian courts since 2010 and was even thrown out at one point, only to be revived several months later. Prosecutors added criminal charges following significant evidence that the designers and their associates went to great lengths to defraud the tax system on purpose.
Tax evasion has been referred to as Italy's "national sport," so what Dolce & Gabbana allegedly did is quite normal. It would seem that the cash-strapped Italian government is eager to use the label's international profile to make an example of them. Meanwhile, the designers have continuously denied all wrongdoing. There's no word on when judge Antonella Brambilla will rule on the case.