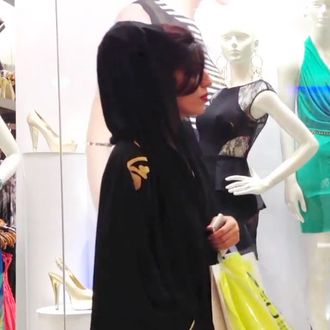 Just when you thought the Snooki pouf was on its way out, it's hitting its stride in the Middle East. The Wall Street Journal has a fantastic video about the big hair that's sweeping the Vegas of Arabia.
As the reporter explains, the look originated to help hold head scarves in place, but now those who take it into true Jersey Shore territory (even using milk cartons for inches of volume) are called "Camel Heads."
Meanwhile, the bumped-up women see it as a tiny way to express themselves while otherwise enshrouded in black. The video shows young Arab women in hijabs with spiked shoulder pads teetering around a mall in five-inch heels with girlfriends, looking how we imagine the Kardashians would if their ancestors hadn't immigrated.
A strapping gentleman at the 1:45 mark provides a voice of reason: "A girl shouldn't be placing a lamp post on her head to show us that her hair is long … a girl can let her hair down and still look pretty without the party and dancing above her head." In-deed.