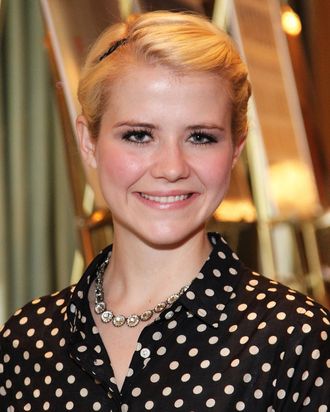 Photo: Monica Schipper/Getty Images
Elizabeth Smart, the Utah teenager who was kidnapped and held captive for nine months in 2002, is now 25 and has gracefully translated her ordeal into a career as an author, ABC News "abduction expert," and sexual predator legislation activist. But she might also make an even better spokeswoman for sex education. At a Johns Hopkins forum on human trafficking last week, Smart said she could relate to victims who don't run away from their captors, the Christian Science Monitor reports (h/t Gawker).
Smart, who grew up in a Mormon family, said that her abstinence-only education (a teacher compared women who had sex before marriage to chewing gum) made her rape at the hands her abductor more demoralizing.
"I thought, "Oh my gosh, I'm that chewed up piece of gum, nobody re-chews a piece of gum. You throw it away.' And that's how easy it is to feel like you no longer have worth, you no longer have value. Why would it even be worth screaming out? Why would it even make a difference if you are rescued? Your life still has no value."
We hadn't pegged Smart for a budding feminist critic of purity culture, but if she keeps it up, she should probably find somewhere to have campaign donations sent.