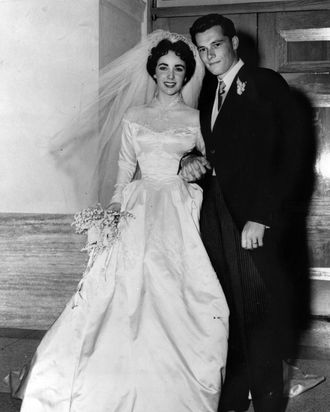 Photo: Keystone/Getty Images
Elizabeth Taylor, who grew up basking in Hollywood's limelight, later became immortalized for her looks, eight marriages, affinity for gems, art collection, and humanitarian efforts. And while quite a few of her jewels (many of which she amassed from various lovers) have already been auctioned off, it appears that her wedding dresses are up next.
Christie's London has announced that the starlet's first wedding gown, which she wore as an 18-year-old bride in 1950 to marry husband No. 1, Conrad "Nicky" Hilton Jr., will be up for auction at the Pop Culture sale on June 26. Created by costume designer Helen Rose (who also later fashioned Grace Kelly's iconic wedding gown to Prince Rainier of Monaco), the gown is made of 25 yards of white satin embroidered with bugle beads and seed pearls and trailed by 15 yards of satin. The gown also features a built-in corset that cinched Taylor's then-twenty-inch waist and a ten-yard shimmering veil attached to a pearl-covered Juliet cap.
The dress was a gift to Taylor by Metro-Goldwyn-Mayer, the film studio under which the actress was then contracted, and allegedly, the creation of this gown was so crucial to MGM that more than fifteen people worked on it full-time for two to three months straight. Unfortunately, the happy couple separated after just eight months.