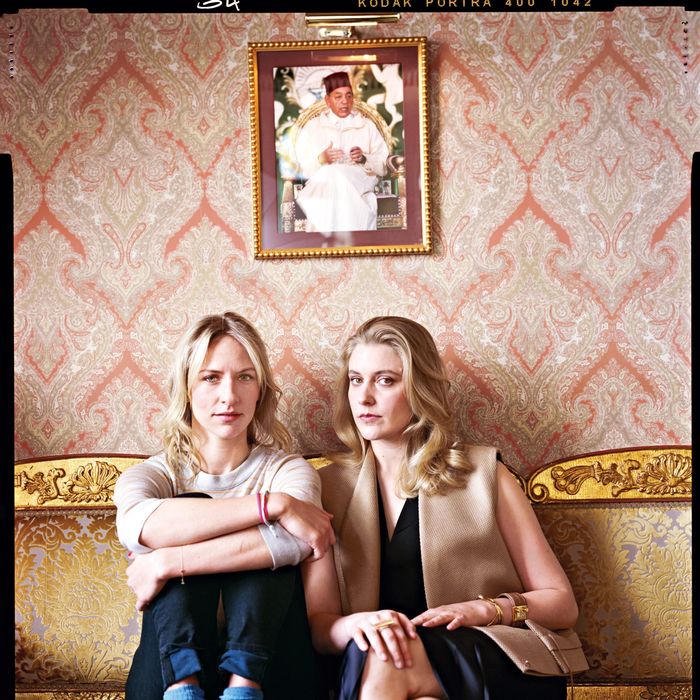 Photo: Wayne Lawrence/Institue
Greta Gerwig and Mickey Sumner can hardly believe it when a waiter at Cafe Gitane's Jane Hotel outpost tells them the restaurant delivers.
"You do?" they say in unison, rising from the banquet like a pair of blonde gophers.
"Can I have a delivery menu?"
"Can I have one, too?"
"Mickey, we just found our new lunch spot," Gerwig says.
The actresses, both 29, are West Village neighbors and co-stars of Frances Ha, the modestly charming, black-and-white investigation of female friendship and ambition, co-written by Gerwig and her ­director-boyfriend, Noah Baumbach. Gerwig and Sumner play best friends and Prospect Heights roommates whose post-Vassar plans to become a famous modern dancer (Gerwig's character, Frances) and powerful editor (Sumner's Sophie) while shunning husbands and collecting honorary degrees disintegrates when Sophie upgrades to Tribeca and gets serious with her banker boyfriend.
They're the kind of friends who fall asleep watching Netflix in bed together, and the women's onscreen intimacy carries over into our real-life lunch, where they pose for photos in a pile of crisscrossed limbs, Sumner's head resting on Gerwig's shoulder. Gerwig wears an intimidating array of jewelry: an oversize Chanel chain and medallion, a Prada cuff, and a ring that says FUCK OFF, offsetting a camel-colored vest she describes as something "a movie star from the fifties who has now hit a lull in the seventies would wear on her Santa Fe ranch." Beside her, Sumner, in a striped crewneck sweater, skinny jeans, and black patent-leather sneakers, looks like Cate Blanchett's tomboy sister.
Gerwig, who climbed from mumblecore microfame to the mainstream by way of Baumbach's Greenberg, didn't know Sumner until her Frances Ha audition tape, which she watched while shooting Woody Allen's To Rome With Love. "I remember sitting in a trailer by the Tiber, watching videos of Mickey over and over again." Sumner, whose parents happen to be Sting and Trudie Styler, was less "fawny" than the other actresses who auditioned for the role. "The truth is you're kind of rough with your very close friends," Gerwig says.
"You're roughest with your best friends," Sumner says, in her posh British accent. They politely sample my hummus with the tips of their forks. It wasn't until one day on set that they became actual friends. "I had a really bad day and I, like, told you about it," Sumner says, looking at Gerwig.
"Yeah! You did!"
"I felt safe enough and open enough. Greta was just this big, open heart in a big, leather jacket that I just wanted to crawl inside."
That night they filmed a scene in which they ran hand-in-hand through Chinatown.
"It was special," they say at the same time.
Gerwig didn't set out with a thesis about female friendship, but sometimes when she watches movies, she wishes "we'd spend a whole movie on the two friends as opposed to whatever plot machinations are going on." For Frances, she drew from her relationship to a high-school best friend. "I always felt I loved her more than she loved me," she says. "There was a very painful period where she got a new group of friends. They dressed as a pack of crayons for ­Halloween. I was like, 'Fuck you, I'm dressed as Prince.'"
"I'd prefer not to be part of the group than to be part of the group and then feel ditched," says Sumner, which is why in high school she stuck with the boys. "With girls you have to deal with competition, boys, jealousy—"
"Bitches," Gerwig says, finishing her ­sentence.
After lunch, Sumner has to go to her acting coach nearby, and we offer to walk her there. It's the brightest day of spring so far but deceptively brisk, and Washington Street is deserted. Since filming Frances Ha, Gerwig has kept busy, co-writing an animated feature and shooting another film, both collaborations with Baumbach, but when I ask her about upcoming projects, she calls it the "worst question you can ask—no offense." The delay between a movie's production and release can be a "bummer of a time." After shooting Greenberg, she didn't work for nine months and went broke waiting for the film's release. "I went from this magical experience to, like, where did that magical experience go?" she says.
It was the same for Sumner when Frances wrapped. "After experiencing that attention to perfection, I didn't want to just do some shitty piece of shit."
After that, we're mostly quiet. Gerwig is magnanimous about the inevitable comparisons of Frances Ha to Lena Dunham's Girls. Sumner asks Gerwig if she ever goes to Barbuto. We reach Sumner's acting coach's building, and they wrap their arms around each other and rock back and forth. "Call me later?" Sumner asks Gerwig. "I want to come to your apartment."
*This article originally appeared in the May 13, 2013 issue of New York Magazine.