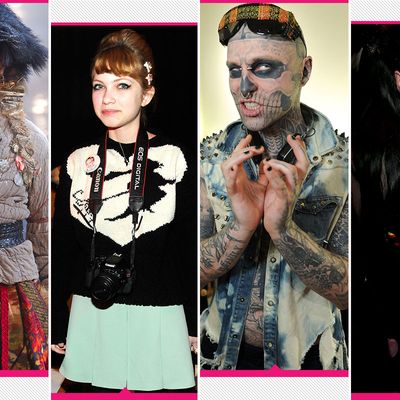 Following the Costume Institute gala tonight, the Metropolitan Museum of Art's spring Costume Institute exhibition, "Punk: Chaos to Couture," will explore fashion's parasitic relationship to punk. Defined by imbalance and deconstruction and filled with jarring pairings, and a brutal sexuality devoid of sentimentality, punk style was once the surest way to rile the public. And the show, curated by Andrew Bolton, will examine how the music's naïf style of anger and disenfranchisement made the journey from the shabbiest streets to the runways of the world's fashion capitals.
Central to the exhibition are Vivienne Westwood — and her business and creative partner Malcolm McLaren. At their 430 King's Road shop in London, they sold rubber fetish gear, swastika armbands, and T-shirts with gay, S&M, and pedophile imagery. Their wares were so unnerving that in 1975, the shop was raided by British police for "an indecent exhibition." Then there's Rei Kawakubo's artfully dilapidated black clothes, which were not so common in the eighties, when a woman was reportedly barred from entering the Ritz Hotel in Paris because her Comme des Garçons ensemble had the doorman worried she might start a manifestation. Along with that, Karl Lagerfeld's reinvented Chanel jackets with punk references, such as trompe l'oeil shredding, were a stunning breach of protocol, a delicious journey to the dark side for uptown ladies. And in 1994, the shock value of designer Gianni Versace's safety-pin dress was a red-carpet triumph for Elizabeth Hurley. Even the Marc Jacobs 1992 foray into grunge, kissing cousin to punk, managed to shock his bosses at Perry Ellis so much that he was fired.
Today, there is nothing about an obnoxious saying scrawled across a T-shirt, a shredded sweater, or a pierced anything that is particularly unnerving. Punk has lost its ability to shock.
In Bolton's estimation, no other pop-culture aesthetic since punk has lent fashion such a powerful tool for shocking our senses. Indeed, only the look adopted by rap stars has come close. But the rise of rap style heralded a different kind of sensory assault. It shifted our fear and astonishment from the clothes to the person wearing them. The content of the conversation was dependent on whether the look is worn by swaggering black youth in search of power or pimply faced, white suburban kids pushing back against cultural privilege. Indeed, something as banal as a hoodie — as worn by a young black man named Trayvon Martin — has become freighted with questions about racism.
Fashion remains as unnerving as ever. The difference is that the clothes now have little to do with the industry's disturbing nature. Contemporary fashion relies on hyperbole, story line, mise-en-scène, body language — the body itself — to give us a jolt.
Over the years, fashion has shifted its unsparing assault from the garments to the men and women who enliven them. The industry now puts damaged people, floundering lives, self-conscious imperfections, disabilities, and once-embarrassing foibles on display for profit and creative satisfaction. In recent years, it has fetishized eccentrics like the young blogger Tavi Gevinson, quickly seating her front row at fashion shows because she was so outré. It became obsessed with obese singer Beth Ditto, putting her on the runway and in magazines in a voyeuristic manner tantamount to fat porn. And model Rick Genest — tattooed to look like a rotting skeleton — became a fashion celebrity thanks to what could certainly be argued was a form of self-mutilation.
The clothes are beside the point.
Occasionally fashion's emphasis on the body over the clothes has been good. When Alexander McQueen cast Aimee Mullins, a double amputee, in his show back in 1999, it was shocking — in a beautiful, game-changing way.
But mostly, fashion has been unkind, unthinking, and brutal. It used to be that fashion mimicked the clothing style of starving artists; now it hones in on the hollow-eyed, wrecked look of the artists themselves. The clothes of the "heroin chic" era of the nineties aren't especially memorable. But the sweaty, pale, sickly look of the models still is hard to shake. And more recently, designers couldn't get enough of Amy Winehouse, not because of her retro costumes and how they enhanced her haunting musicianship, but because of her broken bird aura — her self-destructive refusal to go to rehab — which designers embraced as romantic.
On the runway, designer John Galliano didn't shock his audiences with his clothes. How startling can a bias-cut dress be, after all? Instead, he relied on the kabuki makeup of Pat McGrath, the dramatic skills of his models, and elaborate sets. Fashion, in his hands, was taking its cues from some nineteenth-century freak show or gallery of human curiosities.
When designers are celebrated for their daring decision to bring street style onto the runway, what they are really bringing is the atmospherics. Alexander Wang's captured the industry's attention because of his skill at taking something as banal as a T-shirt and skinny trousers — perfect attire for dinner at the Olive Garden — and using his wan models, with their expertly ratted hair, smudged mascara, and somnambulant gait, to sell the story of a night of debauchery. He redefined the "walk-of-shame" and the culture of "hooking up" as a hipster attitude rather than an indication of flawed judgment.
In 2009, when French Vogue published photographs of white model Lara Stone in black face makeup, that was gasp-inducing and sad. It made me wonder how an international magazine could remain so disengaged, insensitive, and downright deaf to the ongoing conversation about racial diversity.
And the industry's recent obsession with model Ondria Hardin, who walked runways when she was as young as 14 — as if by 18 she would have been haggard, gray, and used-up — raised the question, yet again, of why the industry infantilizes women through its imagery. Why is the mature female figure treated as a blight on the fashion landscape?
Fashion regularly shocks me in all sorts of small and large ways. I am dumbfounded by the practically immoral prices of handbags and shoes. But the design of a pair of towering armadillo heels? Eh. I am appalled by the inability of so many designers to recognize the moral responsibility that comes with visually defining class, power, and femininity. I don't understand why, in an increasingly global business, fashion doesn't take a more activist stance on labor laws and fair wage issues.
And every now and then, I am left speechless when designers tell a story of such astonishing beauty or intellectual richness that it pushes all sense of logic and practicality out of a woman's mind and all she can do is stop, smile, and think. Thom Browne did that in September when he presented his women's collection as a melancholy, but powerful, fairy tale. For several seasons, Haider Ackermann has mesmerized me with his poetry of color, movement, and grace. And Miuccia Prada has regularly plumbed the complicated relationship between being pretty and being powerful.
In hindsight, punk now seems rather quaint. Did we really get so riled up about a bunch of safety pins on a ripped T-shirt? Since the heydays of punk, fashion has evolved into something far more intriguing and profound than just a business of garments. It is an industry of fantasies and nightmares. And the shock value is no longer in what designers suggest we wear, but in who they make us think we are.