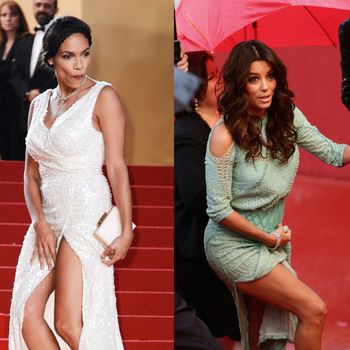 Photo: Ian Gavan/Getty Images; Vittorio Zunino Celotto/Getty Images
In a surprise upset, the red-carpet staircase at the Cannes Film Festival has overtaken the red-carpet staircase at the Met Gala as The Most Perilous Staircase in Show Business. In three days, two starlets have fallen prey to staircase-induced wardrobe malfunctions. Last night Rosario Dawson exposed flesh-toned panties through the thigh-high slit of her Elie Saab gown while climbing the stairs. And on Saturday, Eva Longoria exposed a panties-free portion of herself while climbing the stairs in a Monique Lhuillier gown.
Stylists: Beware the stairs of Cannes.