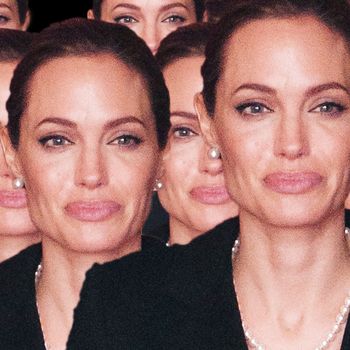 While undergoing "three months of medical procedures" for her preventive double mastectomy and breast reconstruction, Angelina Jolie writes that she "was able to keep this private and carry on with my work." Yesterday we observed how thorough her privacy was; no media outlet caught wind of anything. Today, we trace what Angelina meant by "carry on with my work"  before and after her surgeries on February 16 and April 27.
During that time Angelina visited three continents and four time zones; appeared on two red carpets; launched a school, a jewelry line, and wine label; visited a refugee camp; spoke before world leaders; and hung out with her family. Based on the timelines provided in Angelina's New York Times op-ed, her doctor's blog at Pink Lotus Breast Center, and this week's People magazine cover story, here's how Angie's medical treatment lined up with the rest of her busy life. And she hasn't even had her ovary surgery, yet.
February 2: Nipple Delay
Angelina's first operation is her nipple delay, which helps preserve her nipples but results in "some pain and a lot of bruising." (Read more about the procedure here.) "Her partner was on hand to greet her as soon as she came around from the anesthetic, as he was during each of the operations," Dr. Kristi Funk writes.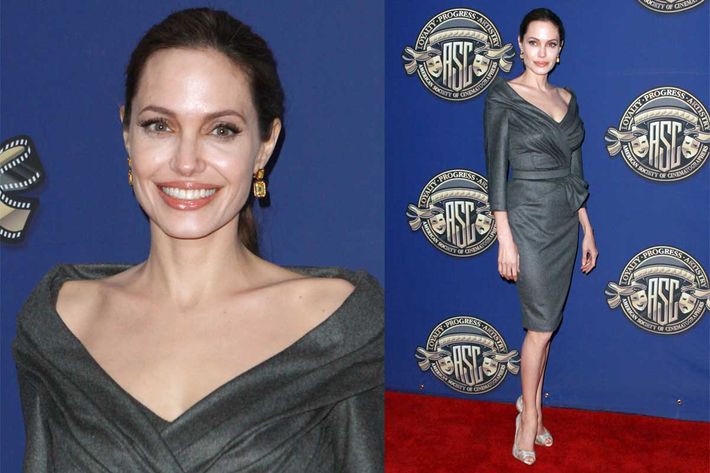 February 10: Final Pre-Surgery Red Carpet
Jolie presents the Lifetime Achievement Award to Land of Milk and Honey's director of photographry on behalf of the American Society of Cinematographers. She wears Atelier Versace with Christian Louboutin pumps and "looks stunning."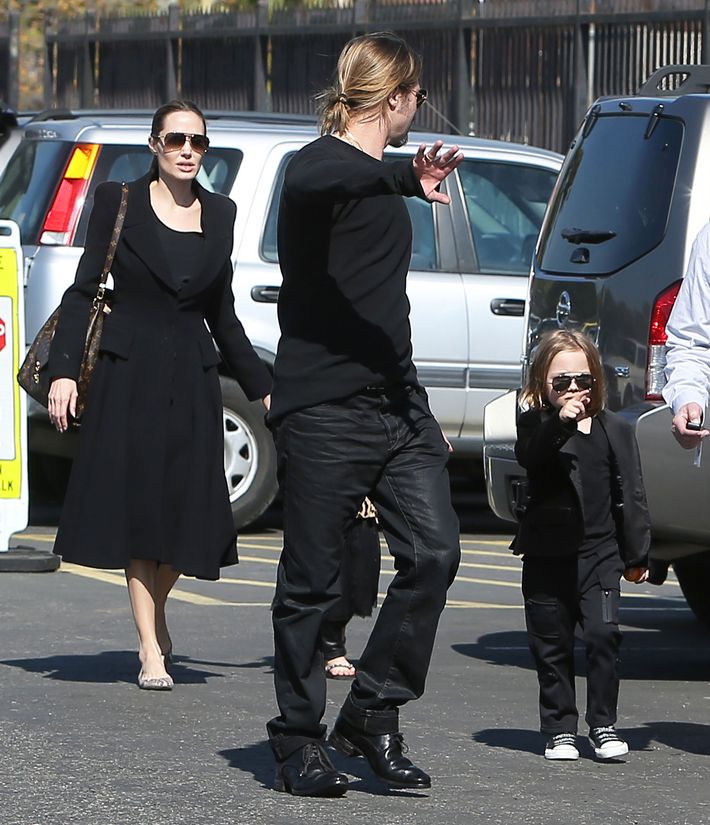 February 13 and 14: Family Outings, 'Romantic Dinner'
Between the nipple delay and double mastectomy, Angelina resumes duties as L.A.'s chicest mom. She takes 8-year-old Zahara and 9-year-old Pax to Urban Outfitters on February 13; Pax sports a chic gold manicure. On Valentine's Day she and Brad take 4-year-old twins Vivienne and Knox to Los Angeles's Natural History Museum, where People reports "the kids explore fossils and insects." (Pictured above outside the museum.) That evening, Brangelina have a "romantic dinner" and "gather all six children together for a family gift exchange" featuring school art projects.
February 16: Double Mastectomy
Angelina's eight-hour double mastectomy goes "smoothly." She  awakens with "drain tubes and expanders" in her breasts. "It does feel like a scene out of a science-fiction film," she writes.
February 20: Resumes Work, Begins 'Tissue Expander'
Four days after major surgery, Dr. Funk is "pleased to find [Angelina] not only in good spirits with bountiful energy, but with two walls of her house covered with freshly assembled storyboards for the next project she is directing. All the while she spoke, six drains dangled from her chest, three on each side, fastened to an elastic belt around her waist." In subsequent days the tubes will be removed and Angelina will undergo saline tissue-expander injections. Explains Dr. Funk, "a tissue expander is a deflated implant that goes behind the pectoral muscles and gets slowly inflated with saline over a period of 2-3 months, until the chosen volume is reached. A second operation is performed to swap the expander for the final implant (usually silicone)." Some women have implants inserted immediately after mastectomies. Angelina chose her method to "maximize blood flow" and "optimize the final implant size, location, and appearance."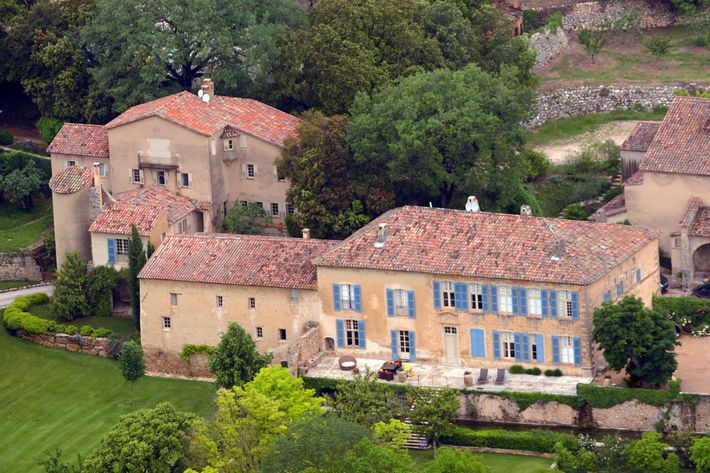 March 7: Becomes a Wine Mogul
Miraval Rose 2012, the wine blended from grapes grown on Brangelina's thousand-acre estate in Provence, hits the market. It sells out in five hours and tastes like "blooming jasmine and honeysuckle, red fruits of cherry, raspberry and watermelon, plus zippy citrus peel."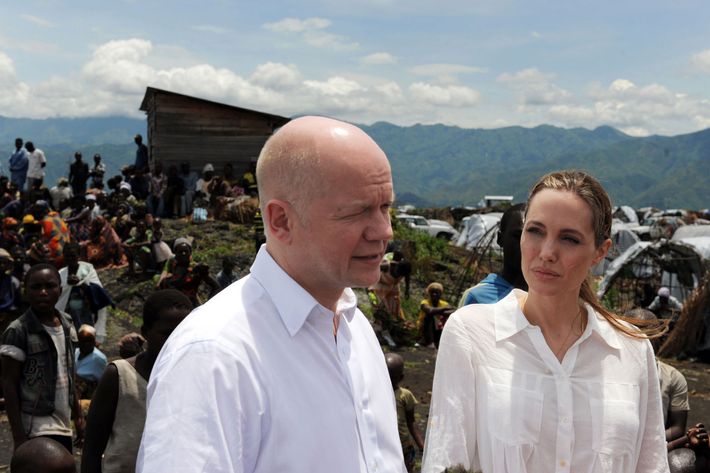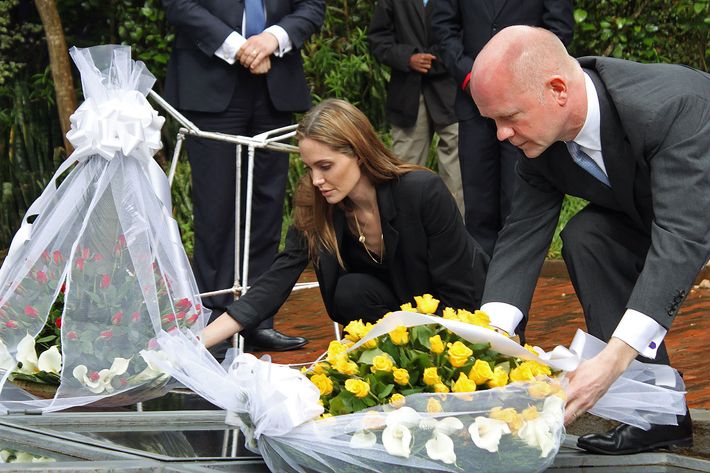 March 26: Trip to Central Africa
In her role as a UNHCR special envoy, Angelina accompanies British Foreign Secreary William Hague to the Nzolo refugee camp in the Democratic Republic of Congo to raise awareness of warzone rape. The duo also visits Rwanda's Gisozi genocide memorial and lay wreaths there.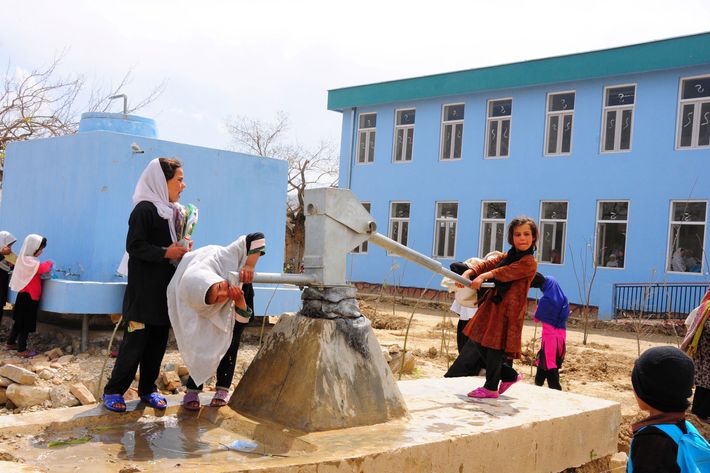 April 2: Launches School, Jewelry Line
A Jolie-sponsored all-girls primary school opens in Kabul. It will educate 200 to 300 students and be financed by Angelina's new Style of Jolie jewelry line. "Beyond enjoying the artistic satisfaction of designing these jewels, we are inspired by knowing our work is also serving the mutual goal of provided for children in need," she tells E! News. One-hundred percent of profits will go to a new foundation called the Education Partnership for Children of Conflict. They plan to open more schools later.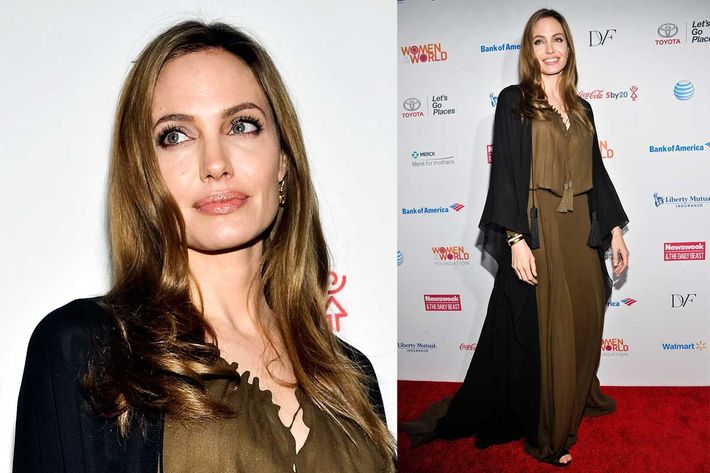 April 4: Women in World Summit in New York
Angelina introduces Malala Yousafzai, the Pakistani teenager shot in the head advocating for female education, and pledges $200,000 to Malala's Fund. She wears a loose, floor-length Saint Laurent dress that earns red carpet rebuke.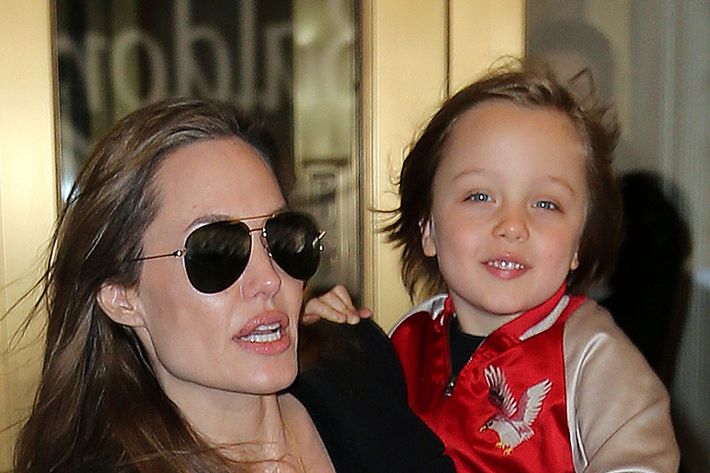 April 5: Family Toy Shopping
The day after her Women in the World appearance, Angelina returns to mothering. She and Brad bring their six children to FAO Schwarz. Angelina is still in the midst of tissue expansion, but she has no trouble carrying 4-year-old Knox (and his blankie) as pictured above.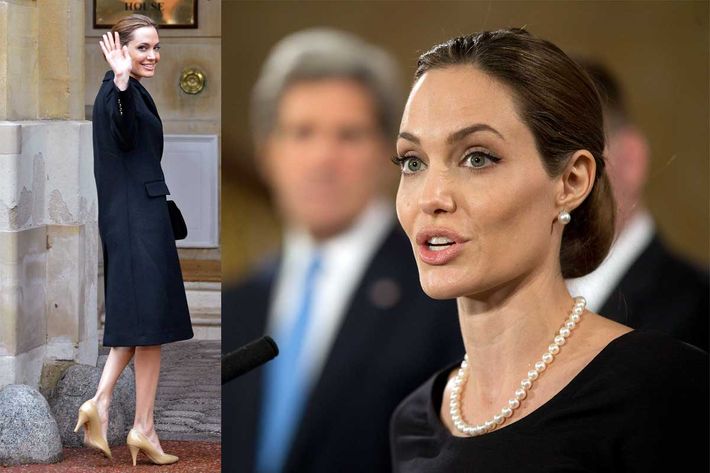 April 11: G8 Conference, London
Angelina reunites with British Foreign Secretary William Hague to attend the G8 Foreign Ministers' Conference in London. She speaks about sexual violence in warzones. "Rape is not a women's issue or a humanitarian issue," she says. "It is a global issue." 
April 27: Reconstructive Surgery
Ten weeks after the process started, Angelina has her breasts reconstructed with implants. After her recovery, she says her children "can see my small scars and that's it. Everything else is just Mommy, the same as she always was."