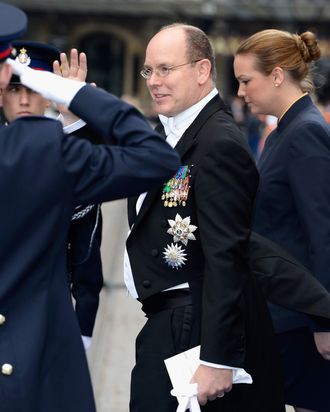 Photo: Pascal Le Segretain/Getty Images
Add the "Power Paunch" to the list of the world's injustices: While pregnant Kim Kardashian's life-sustaining weight gain continues to inspire sneering tabloid euphemisms, the Daily Beast has taken a moment to celebrate the potbelly, an index of one's expense account and, by extension, one's power. On men, anyway. Sean Macaulay writes:
"In the male hierarchy of overweightness that runs upward from baby fat to morbid obesity, the paunch is the glorious exception. Why? Because it's deliberate. It doesn't come from neglect or shame or dietary ignorance. It comes from self-adoring devil-may-care confidence."
The double standard here is not the existence of body judgment — Prince Albert, pictured, has been teased for his weight gain in the tabloids like any actress turned diet-supplement spokeswoman — but its tenor. When a woman gains weight, she becomes the object of ridicule, faux concern, or sympathy. When a man wears extra pounds, he appears "rakish" and "majestic." What would it take for certain female-associated physical attributes — muffin top, inner-thigh junction, upper-arm flab — to become signs that a person is simply too important and confident to waste an hour at gyrotechnic pilates? The end of the world as we know it? Until then, look out for reports that gout is the new gluten allergy.