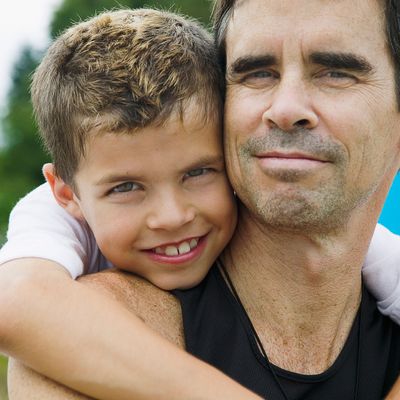 Earlier this week, Esquire and the Cut lamented how hard it is for men, like women, to have it all, as they say, especially without a sisterhood to lean in to and gab about it with. But Bloomberg Businessweek reports that some men are, in fact, forming support groups to address the challenges of being a working parent. They're just in Canada.
In Toronto, Deloitte consulting group has a working dads group, Deloitte Dads, a.k.a. "The Fraternity of Paternity."  According to writer Sheelah Kolhatkar, for Deloitte working dads, child-rearing is not about finding work-life balance. "They don't believe in 'balance,'" she writes, because they don't see spending time with their kids as antithetical to work. For them, child-rearing is a part of their job, and they're on the clock, smartphone charged, 24-7. "Magder and his colleagues sound in many ways like typical MBA guys, only they're applying the principles of efficient management to the task of parenting," she writes. Also unlike a Lean In circle: there's no guilt, no self-flagellation, and minimal feelings.
Behold, a day in the life of Alpha Dad Rob Lanou:
Lanoue, who became partner in 2010, has two children in school full-time, a 5-year-old and a 9-year-old, and he estimates that he works one day a week out of his basement office at home, partly to spend more time with them. He manages this, he says, by "being proactive with my calendar, weeks out," planning his schedule meticulously, moving in-person meetings to conference calls when he needs to and being blunt and in-your-face about it. Even when he's in the office, he sometimes has to leave at 3:30 p.m. to drive his son to his hockey games, a fact he broadcasts to help dispel the stink that can trail people when they sneak out early. "Everyone knows my routine when I'm not there," he says. "Between 3:30 p.m. and 7 p.m., I'm available by e-mail. If there's anything I have to review, it's well into the evening." In other words: It'll get done, but on his time.
Kolhatkar says this level of efficiency suggests "men might actually be better at handling women's issues than women." (Pause for spit-take.) But to me, this sounds exactly like the schedule woman and "Can Women Have It All?" writer Anne-Marie Slaughter was working at the State Department until she realized it was insane, leaned the heck out, and, well, kicked off this entire conversation. There's lots more to think about over at Bloomberg Businessweek (including an interview with the father of the Men's Rights Movement), and in the meantime, any men who want to talk about their feelings and/or turn off their BlackBerrys are welcome at my lunch table/Lean In circle.