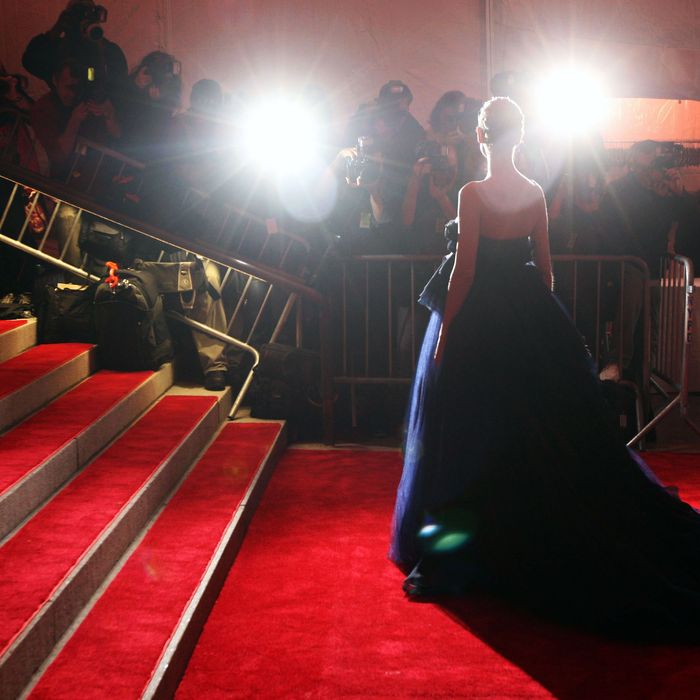 Photo: Stephen Lovekin/Getty Images
The pop-culture landscape is littered with analogies explaining the significance of tonight's Met Gala: It's fashion's Academy Awards, its prom, its Super Bowl. What it really is, though, is a tremendous excuse for celebrities to wear something insane or over-the-top (or, best of all, both) without fear. After all, the entire point of the event is to turn your look up to eleven — and never more than this year, given that Anna Wintour, in her infinite wisdom, endorsed a theme that seems designed to lead to deliciously bizarre wardrobe choices: "Punk: Chaos to Couture." Have you ever heard of anything that seemed more likely to end in sartorial disaster? (Here's hoping, anyway.) For the second year in a row, the treacherous journey from Town Car to the top of the Met's staircase will be live-streamed on Vogue.com, so please fire up your browser windows and join us at 7 p.m. as we live-blog the entire undertaking. Fingers crossed that someone has shaved her head and run a safety pin though her nose for the occasion.
Update: Click here to see all the red carpet looks as they filter in.
| | | |
| --- | --- | --- |
| | Fug Girls Live-Blog the 2013 Costume Institute Gala | (05/06/2013) |
6:39

The Fug Girls:

Once again, the concept of live-blogging a live-stream feels like we're reporting to you from the nexus of the universe, or something. Is it too much to hope that, as happened last year, Vogue's live-stream microphones are placed right next to the sassiest, most opinionated photographer in the pit?

Monday May 6, 2013

6:39

The Fug Girls
6:43

The Fug Girls:

Also: the stream hasn't started yet, but pictures are rolling in and NO ONE looks even remotely punk thus far. There's not even a hair out of place in Anna's bob.


Monday May 6, 2013

6:43

The Fug Girls
6:52

The Fug Girls:

Rumor has it that Bergdorf's Linda Fargo is wearing a rubber dress. THAT is what we're talking about.

Monday May 6, 2013

6:52

The Fug Girls
6:55

The Fug Girls:

Nothing's happening yet -- obviously -- so let's talk about which celeb seems MOST likely to really show up looking committed to theme. Kim Kardashian, right? (Dear God, we hope so.)

Monday May 6, 2013

6:55

The Fug Girls
7:05

The Fug Girls:

AND THE LIVESTREAM IS LIVE, with Katie Holmes in white, shredder Calvin Klein and a LOT of eyeliner. She is totally bored and kind of boring. "I"m so happy to be here," she says with the same amount of enthusiasm we'd bring to greeting our optometrist.

Monday May 6, 2013

7:05

The Fug Girls
7:08

The Fug Girls:

Hilary Rhoda is lovely, but she is very low energy. Maybe we're just super used to the manic energy of Giuliana? She's chatting up Grace Coddington, who literally looks EXACTLY THE WAY SHE ALWAYS LOOKS. She's amazing, but this isn't very thrilling. "I'd like to see some real punks in here" she says. "Like STREET PUNKS. They're probably not invited." Indeed


Monday May 6, 2013

7:08

The Fug Girls
7:09

The Fug Girls:

And now we've got Anna, in a flowered Chanel. "I think New York has been in a complete STATE trying to decide what to wear tonight," she says. She looks classic and lovely and about as punk as our grandmothers.

Monday May 6, 2013

7:09

The Fug Girls
7:12

The Fug Girls:

Rooney Mara, who SHOULD look rather punk, given her usual, is in a more bridal-feeling lace Givenchy. At least she doesn't look boring, although she is, as always, completely low energy and unenthusiastic in interview. It's more punk if you just act like you don't CARE, Rooney.

Monday May 6, 2013

7:12

The Fug Girls
7:14

The Fug Girls:

Lauren Santo Domingo is more punk by way of the Dowager Countess. Her sleeves are big enough to act as flotation devices.


Monday May 6, 2013

7:14

The Fug Girls
7:17

The Fug Girls:

Meanwhile, it will relieve you to hear that Amanda Seyfried seems as stoned and out of it as she did during the awards season. "This isn't punk," she drawls of her vintage gown. On the other hand, Chloe Sevigny is wearing a black head turban, like the boss that she is, and ALT is wearing an insane pattern robe and just said the words, "I"m very excited about the urinal." So basically no one has changed at all since last we saw them.

Monday May 6, 2013

7:17

The Fug Girls
7:21

The Fug Girls:

"We're so looking forward to seeing Kate Bosworth tonight," Hilary Rhoda just intoned. "Meanwhile, we're here with Sally Singer." In other words, "I don't care about you guys, but whatever." Hilary is lovely, but she's no Ryan Seacrest. All these interviews are deeply awkward. We miss the loudmouth paparazzi. Where is that guy? Can someone find him?

Monday May 6, 2013

7:21

The Fug Girls
7:23

The Fug Girls:

"Punk," Billy Norwich just drawled. "Punk," Debbie Harry just said back to him, before telling him that she's wearing noted punk artist Tommy Hilfiger. "Tommy sometimes ACTS like a real punk," she says. Billy reacts with silence. "Yes," he finally says. "Do you have....um. We're just thrilled you're here." You guys, we can not stand how awkward this is.

Monday May 6, 2013

7:23

The Fug Girls
7:28

The Fug Girls:

The Sisters Fanning are in Rodarte, and Elle, at least, is wearing crazy blue eye shadow. Karen Elson, awesomely, is wearing a faux nose ring, and Cara Delevingne is basically covered in studs. At LAST, someone is adhering to theme.

Monday May 6, 2013

7:28

The Fug Girls
7:29

The Fug Girls:

WELCOME to those of you who are just joining us, and apologies for our technical difficulties. Maybe we were just punking you?

Monday May 6, 2013

7:29

The Fug Girls
7:31

The Fug Girls:

Hilary has Donatella Versace, whose shoulders are covered in spikes and who we can not understand at all. She does note that she can't wait to see Liz Hurley's infamous Versace safety pin dress once she gets inside, which I think it probably true for everyone there.

Monday May 6, 2013

7:31

The Fug Girls
7:33

The Fug Girls:

Let's all give Ginnifer Goodwin a gold star for not cringing when Billy calls her "Ginnifer Godwin." And let's give Miley Cyrus points for wearing a Marc Jacobs gown that seems to be totally fishnet, albeit lined. She might look kind of great? (See her, and more, on The Cut's red carpet gallery here.) Don't get mad at us for saying that.


Monday May 6, 2013

7:33

The Fug Girls
7:37

The Fug Girls:

One of the things we miss from E!'s always steller coverage of events is that they're really good at getting shots of people entering the venue when less sartorially fascinating people are being interviewed. Like, Pharrell looks awesome in Lavin, but surely some crazy yahoo is showing up wearing, like, a mohawk as a dress. And JUST as we wrote that, they started cutting away, including to a woman who is sporting a really awesome afro. We can't see her face to tell who she is, but her hair looks awesome.

Monday May 6, 2013

7:37

The Fug Girls
7:40

The Fug Girls:

....and then a bunch of people just walked in front of the camera, as Hilary Rhoda awkwardly tries to chat up Grimes, who says she's looking forward to seeing "the exhibit, for sure," inside. YOU GUYS, COME ON.

Monday May 6, 2013

7:40

The Fug Girls
7:40

The Fug Girls:

"This is like, an annual thing, right?" Psy just said to Billy.

Monday May 6, 2013

7:40

The Fug Girls
7:42

The Fug Girls:

"I'm sorry?" Billy just said to no one, and then said goodbye to Psy in the middle of his interview to usher in Frank Ocean, who says he knows nothing about punk and is in fact, wearing a totally boring and basic tux, livened up with some studded shoes. Can we please cut to someone else? Surely Kirsten Dunst is there looking awesome somewhere?

Monday May 6, 2013

7:42

The Fug Girls
7:42

[

Comment From Meghan

Meghan:

]

But it was Colin Firth video bombing! Love it

Monday May 6, 2013

7:42

Meghan
7:42

The Fug Girls:

The best video bombing is a Firth one!

Monday May 6, 2013

7:42

The Fug Girls
7:44

The Fug Girls:

Hilary is chatting up Kerry Washington, who name-checks The Mixed Up Files of Mrs Basil E Frankenwiler and is completely charming and adorable with some purple in her hair. She dismisses her and calls in Baz Luhrmann and his wife Catherine Martin. "so, you guys are British, right?" They exchange looks. "We're....Australian."

Monday May 6, 2013

7:44

The Fug Girls
7:46

The Fug Girls:

Billy is chatting up Vivienne Westwood, who looks exactly as you would imagine Vivienne Westwood to look. "I like some of my stuff, and we'll leave it there," she says of her exhibit, continuing tonight's theme of AWKWARD.

Monday May 6, 2013

7:46

The Fug Girls
7:47

The Fug Girls:

And then either the feed cut out, or they cut video on Vivienne Westwood, because she was talking too much about politics. That's not very punk, Vogue.

Monday May 6, 2013

7:47

The Fug Girls
7:50

The Fug Girls:

We've never said this before, but thank God for January Jones, who appears to have at least committed to the punk ideals when it came to her eyeliner, which is extreme, although her shiny black Chanel isn't particularly edgy, especially for her. "Siouxsie Sioux was my inspiration," she says.


Monday May 6, 2013

7:50

The Fug Girls
7:52

The Fug Girls:

Jimy Fallon claims his hair is courtesy of the Natural History Museum. Billy is not really sure how to handle it, so he throws to Kim Kardashian with Hilary. Kim's dress is very flowerly, with a turtleneck and arms that...turn into gloves? We think the arms/gloves are connected, but not just matching. She is weirdly kind of articulate? Is is weird that she and Miley both kind of came out of this looking okay?

Monday May 6, 2013

7:52

The Fug Girls
7:54

The Fug Girls:

Dear Sarah Jessica Parker: thank you for wearing an insane Philip Treacy faux-mohawk headpiece, crazy-ass boots, a ton of jewelry, and a very crazy dress. SPJ is with the divine Hamish Bowles, who is wearing guyliner and nail polish, but we don't get to hear the story behind ANY OF IT because BILLY CUTS HIM OFF. DON'T CUT OFF HAMISH WHEN HE'S TALKING ABOUT GUYLINER.

Monday May 6, 2013

7:54

The Fug Girls
7:57

The Fug Girls:

Stacy Keibler, with Rachel Roy, is COVERED in studs and is sporting purposefully dirty hair. Finally, people are starting to bring it a little bit. No one to SJP's level, though, and god bless her for actually trying. Speaking of trying, Marc Jacobs is wearing a polka dotted suit with a Peter Pan tie.  Of all people, I would have thought he'd wear one of his skirts tonight.

Monday May 6, 2013

7:57

The Fug Girls
7:59

The Fug Girls:

At least Marc Jacobs can speak articulately on the subject. Next up, Gwyneth, who is in hot pink Valentino with a sheer window across the clavicle. "I guess it's punk in that....I went totally classic," she says. It's so annoying when GOOP is totally charming, which is what just happened.

Monday May 6, 2013

7:59

The Fug Girls
8:00

The Fug Girls:

Bosworth is in a short pink sparkly Balmain. She too is sporting the faux-dirty hair. We're ALSO doing that tonight, except our hair is ACTUALLY dirty.  FYI, hardly anyone can answer the "what is your favorite punk song?" with an actual punk song.

Monday May 6, 2013

8:00

The Fug Girls
8:02

The Fug Girls:

You guys, Cameron Diaz is in Stella McCarthy and how is this punk rock? It has a studded belt, and that's it. It looks more like she is attending an exhibition celebrating the caped dress Gwynnie wore to the Oscars in 2013. Matching shoes are not punk, y'all.

Monday May 6, 2013

8:02

The Fug Girls
8:04

The Fug Girls:

"Are you guys wearing Alexander Wang?" Hilary asks Julianne Moore. "Balanciaga," she corrects her. NOT in Balanciago is Kristen Stewart, who has also been attacked by Stella. Billy isn't asking them anything about fashion, but rather when they're leaving NYC. Kristen gives him the most doubtful brow-raise that actually is both kind of awesome and a little mean. She might be wearing pants, but the camera won't pan down. Are those pants? Will someone please weigh in??

Monday May 6, 2013

8:04

The Fug Girls
8:06

The Fug Girls:

Jennifer Lawrence in Dior -- natch -- looks scared. "Did you guys coordinate on your look?" Hilary asks J. Law and Rafe. They're like, "well....yes. We sure did," Jennifer is wearing black and has a tiny veil over her face. "I was a cheerleader," she then says, as random people wander past the camera. I am BEGGING Vogue to PLEASE hire actual on-camera talent for next year. Please. Seacrest. He is a pro.


Monday May 6, 2013

8:06

The Fug Girls
8:06

The Fug Girls:

"I thought I'd be the original punk...JOAN OF ARC," Katy Perry just said. Yes. That just happened. Apparently, Joan of Arc wore a bedazzled Virgin Mary on her breasts.

Monday May 6, 2013

8:06

The Fug Girls
8:08

The Fug Girls:

Billy is chatting to Kate Upton and Leslie Mann, and clearly has no idea who Leslie is. He directs no questions to her whatsoever, other than, "have you been here before?" She smiles. "Yes, last year." Billy also needs to stop asking, "will you be in New York for a while?" to these people. We are piling on him, but it's very awkward.

Monday May 6, 2013

8:08

The Fug Girls
8:10

The Fug Girls:

Hilary has Lena Dumham in Erdem, WITH Erdem, who is very cute. Lena Dunham seems like she could look more punk than she does in this very girlish black dress. Everyone seems to have just decided to wear extra eyeliner and call it a day.  (See her -- and everyone else! -- in the red carpet slideshow)

Monday May 6, 2013

8:10

The Fug Girls
8:10

[

Comment From Kelsey

Kelsey:

]

Never though I'd say this but... where is Ryan Seacrest when you need him?

Monday May 6, 2013

8:10

Kelsey
8:11

The Fug Girls:

Interviewing people is really hard, but you have to have a better go-to question than, "Are you staying in New York long?" I'd rather hear the answer to "what did you have for lunch today?" Sincerely.

Monday May 6, 2013

8:11

The Fug Girls
8:13

The Fug Girls:

Billy calls Amar'e and Alexis Welch "the most important couple in New York" and for one frightening second, we are scared this means that something terrible has happened to Jay-Z and Beyonce. (Amar'e looks swell as always, though, in a subtle plaid.)

Monday May 6, 2013

8:13

The Fug Girls
8:14

The Fug Girls:

Sofia Coppola said she just decided to wear pajamas because they were comfortable. "Pajamas are kind of punk, right?" In other MAJOR NEWS, Anne Hathaway is BLONDE NOW YOU GUYS, and claims she is inspired by Debbie Harry. She is very, very low key -- perhaps she's scared we're all going to start hating her again. She actually is wearing a Valentino from 1992, and it's kind of rad.

Monday May 6, 2013

8:14

The Fug Girls
8:15

The Fug Girls:

We do wish Hilary would ask Anne about her new blonde hair. "We love your...purple eyeshadow," she says, waving her hand at her head in a total psych-out.

Monday May 6, 2013

8:15

The Fug Girls
8:16

The Fug Girls:

In the distance, J Lo appears to be wearing  leopard, which seems...apt, yes?

Monday May 6, 2013

8:16

The Fug Girls
8:17

The Fug Girls:

Just ONCE, I want one of the celebs to answer the question, "are you excited to see the exhibition inside?" with, "nah, I hate this shit."

Monday May 6, 2013

8:17

The Fug Girls
8:17

[

Comment From Valentina

Valentina:

]

What better way to garner favor with America than following the style footsteps of Miley Cyrus! -- says a misguided Anne Hathaway

Monday May 6, 2013

8:17

Valentina
8:19

The Fug Girls:

Hailee Steinfeld is wearing Donna Karan Atelier, and she looks pretty adorable. "I'm kind of going through [my punk phase] right now," she says. She then says she really digs Avril Lavigne. "AVRIL LAVIGNE IS NOT PUNK," Andrew Beven chortles, bless him.

Monday May 6, 2013

8:19

The Fug Girls
8:23

The Fug Girls:

Billy is having a cow over Beyonce. "Oh my god, she is queenly," he says as she sweeps by him. We can't see her at all. She could be wearing a cardboard box. And then...it's over? That's it? There were so many other celebrities there who never made it past the cameras! Like, Gwen Stefani, who we only spy in b-roll and who might be wearing pants! And the leopard-printed J Lo! And Beyonce!  Who we finally get a shot of here at the end, praise Wintour. She's wearing arm warmers and a tube top and a train that appears to be approximately seven feet long. We feel better now that we've seen her arm warmers. Everything is okay now that we know Beyonce was wearing arm warmers.

Monday May 6, 2013

8:23

The Fug Girls
8:24

Monday May 6, 2013

8:24

The Fug Girls