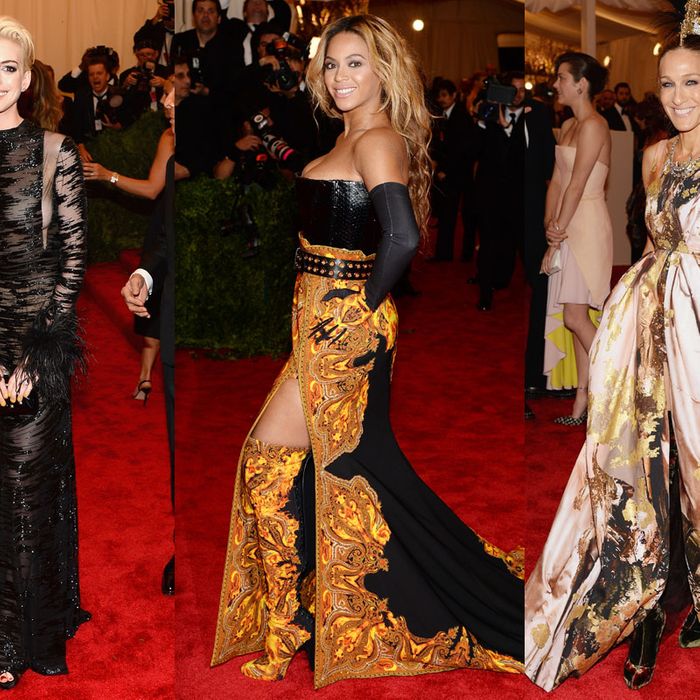 When this year's theme for the Met Gala was announced, we had such high hopes. "Punk: From Chaos to Couture" is a directive that could go hilariously, terribly wrong or fantastically, spectacularly right. At least it won't be boring, we said. But that's when we thought that people would, you know, adhere to the aforementioned theme. If Anna Wintour says she's throwing a punk party, then you stick on a mohawk and you punk it up, right? Apparently not. Even Wintour (in a floral Chanel) phoned this one in, turning fashion's most fun evening into sort of a snooze. But while 85 percent of the guest list apparently decided to just wear a little extra eyeliner and call it a night, the other 15 percent brought it. Here's to the women who actually made an effort. Madonna, we've never been happier to see you.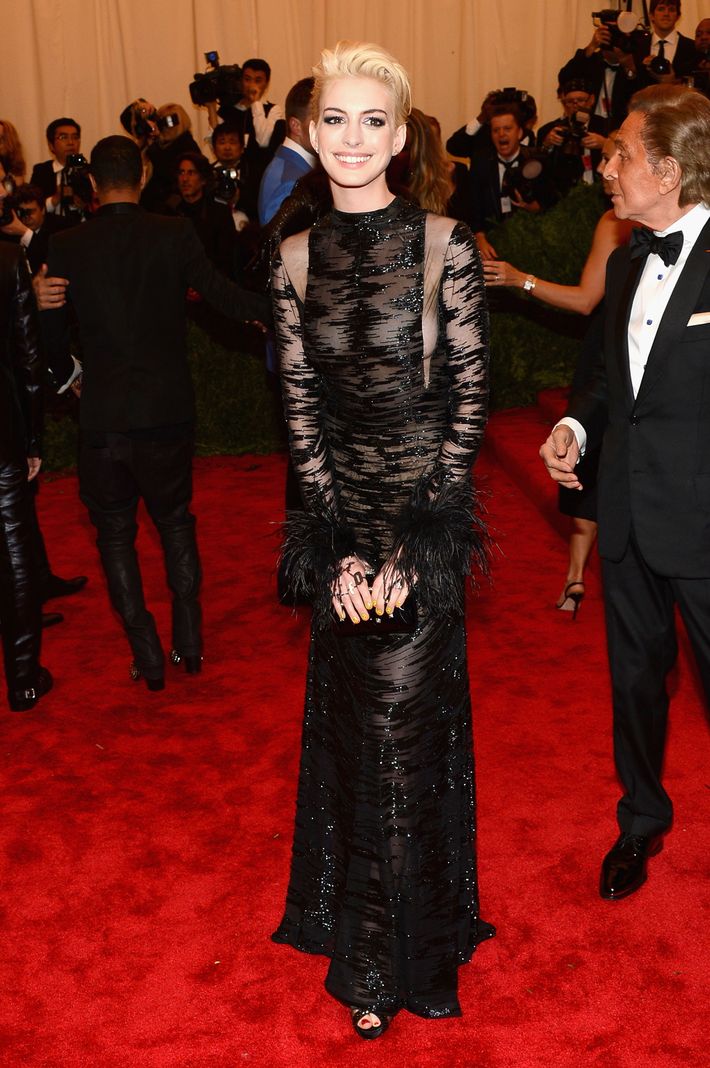 Anne Hathaway 
After an awards season where she got slammed on all sides for being overly earnest, Hathaway's rep needed a little punk rock. The good news is that someone in Anne's camp realized that, left to her usual devices, Anne was probably in danger of overdoing this — and instead of unleashing her with a full-on safety pin through the nose, held her to just a soupçon of sideboob and a new kicky blond 'do. Add in the fact that Anne's wearing Valentino (from 1992) — and attended on his arm — it feels like at least some of went wrong for her on Oscar night has been repaired.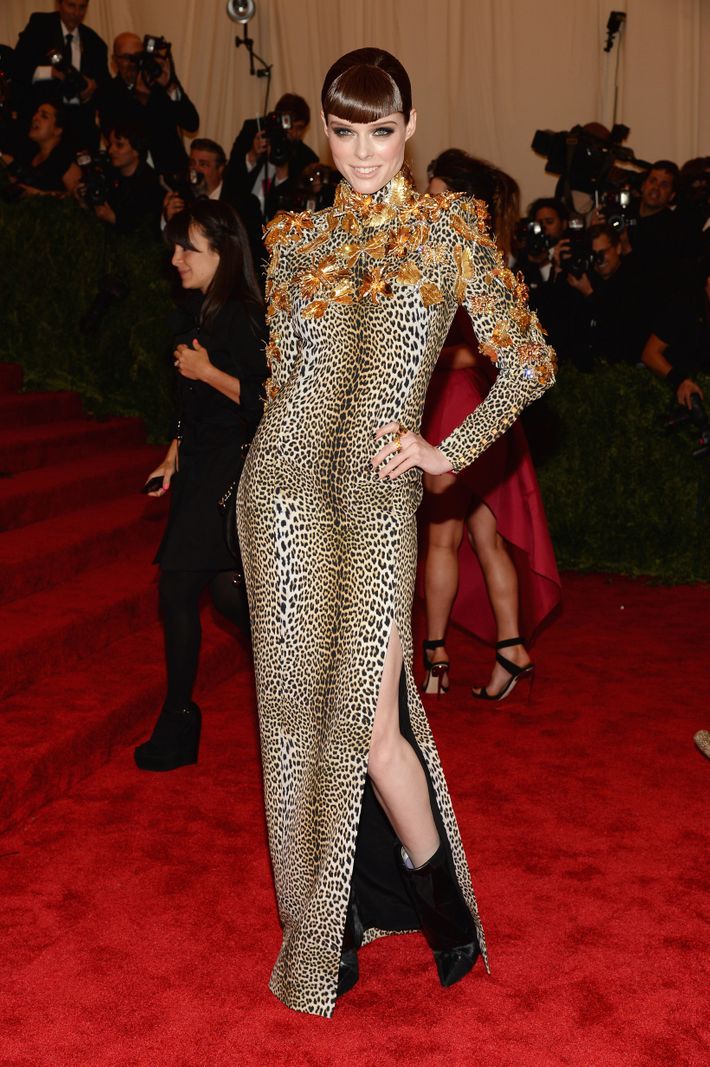 Coco Rocha 
Last year, Coco managed to pull off a hot pink and yellow pantsuit that once belonged to the late Elizabeth Taylor. The truth of the matter is she almost could have repeated that outfit again this year, especially with that pink-dipped hair. But Coco works harder than that. Besides, when else is she going to get to wear an animal-print gown covered in countless jeweled insects?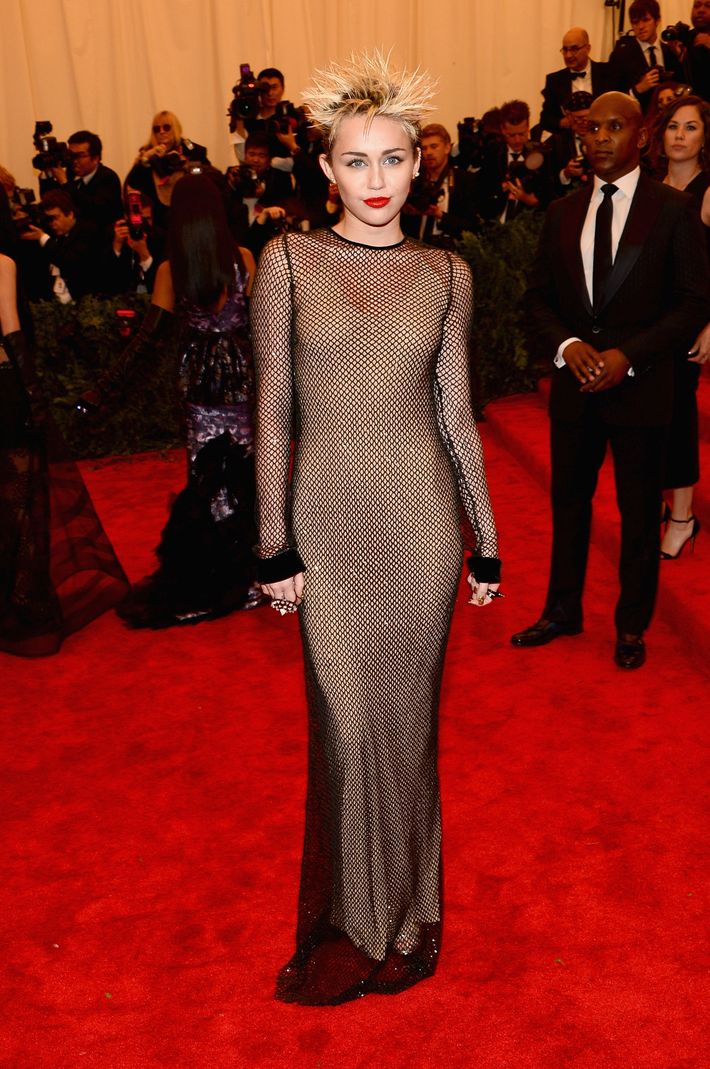 Miley Cyrus 
We feel dirty even saying this, but Miley really turned it out in this (lined, thank you, Marc Jacobs) fishnet number. She gets bonus punk points for that crazy hair, which is like There's Something About Mary by way of Billy Idol. It's not particularly attractive, but punk is supposed to be kind of messy and ugly sometimes.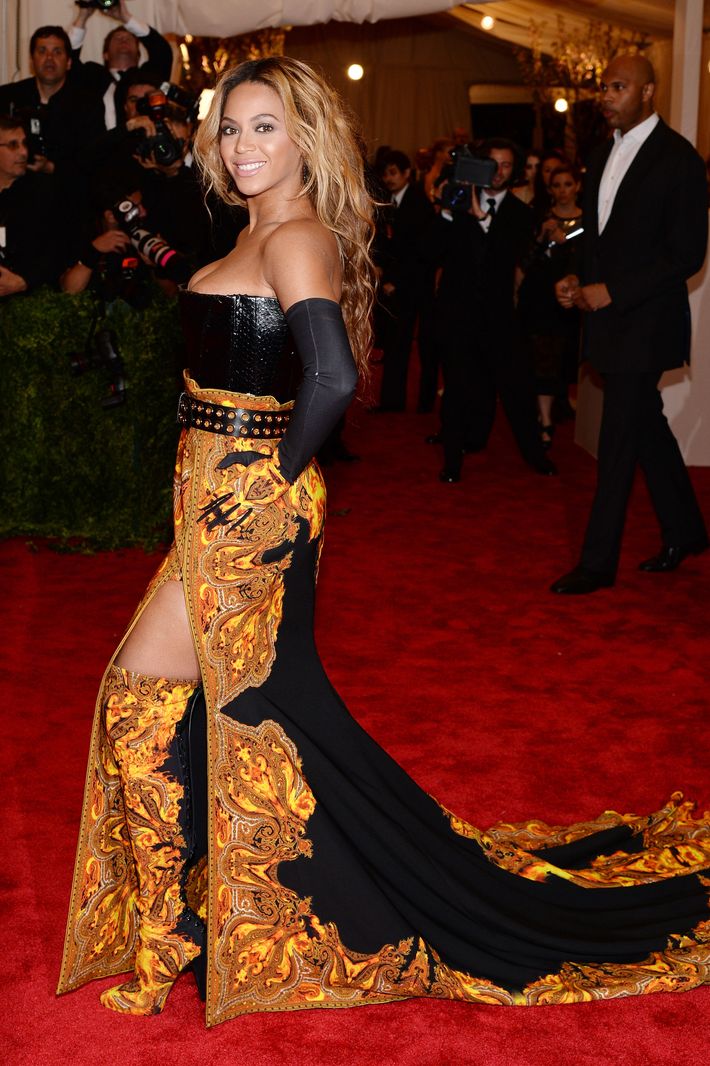 Beyoncé    
Okay, so we suspect that Beyoncé thought the theme of the Gala was actually "Beyoncé: Do Whatever the Hell You Want," but at least she adhered to a theme.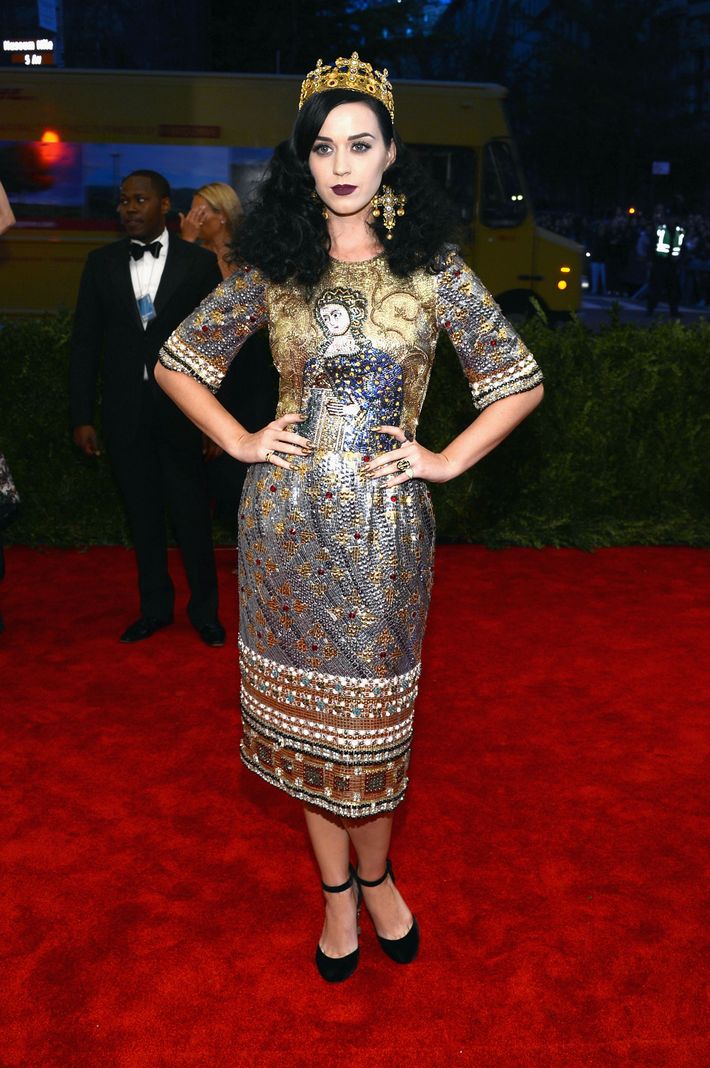 Katy Perry 
Like Beyoncé, Katy Perry seemed confused about what punk actually meant. She announced on the red carpet that she was dressed as the "original punk, Joan of Arc," but those words don't make any sense in that order. Is it possible that she thought she could dress like any exhibit in the Met, and had her Medieval Wing Look all bought and paid for before she actually had a sec to sit down and read her invitation?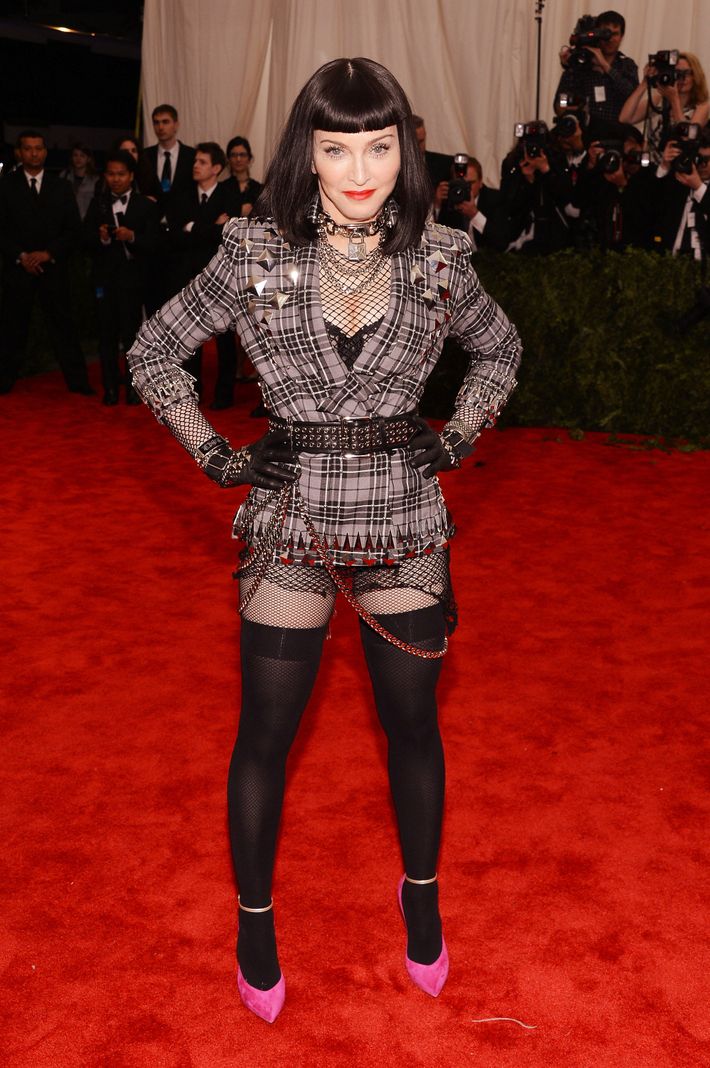 Madonna
Sometimes, Madonna likes to remind the general public that she still knows how to put on a show — especially when the theme of said show involves several of her areas of expertise, namely fishnet, dog collars, and not wearing pants. And we've never been more grateful to see her butt hanging out than on a night this unexpectedly boring (not to mention that it's kind of comforting to know that Madonna can still serve it if she really wants to). The real burning question, of course, is: How much of this do we think she just dug out of the back of her closet?
Christina Ricci 
If Madge went for the full-on punk bad girl look, Ricci is the other side of that coin, giving a nod to the same punky plaid — and going a little dramatically bare — while still looking conventionally pretty. For all those celebrities who ignored the punk directive in favor of looking princessy, here's proof that, with a little effort, you can actually do both.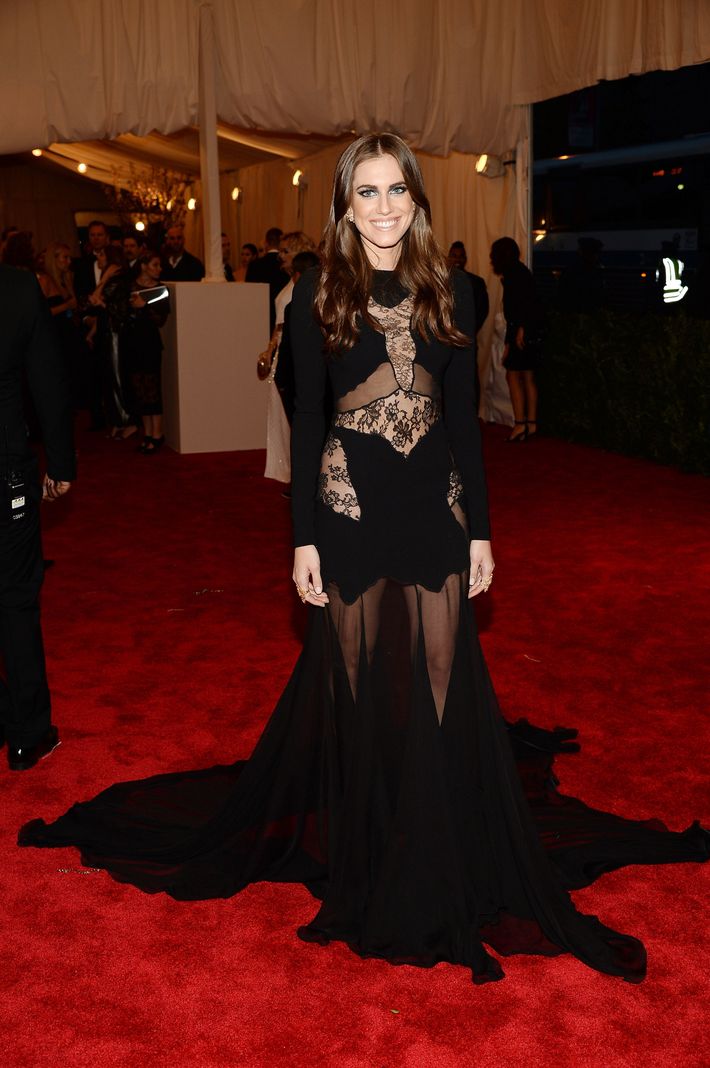 Allison Williams 
On one hand, Allison kind of looks like she decided to dress as KISS if it were magically transformed from a band of old dudes with a penchant for makeup and bats and into a ball gown. On the other hand, aren't you happy that you know what that would look like now?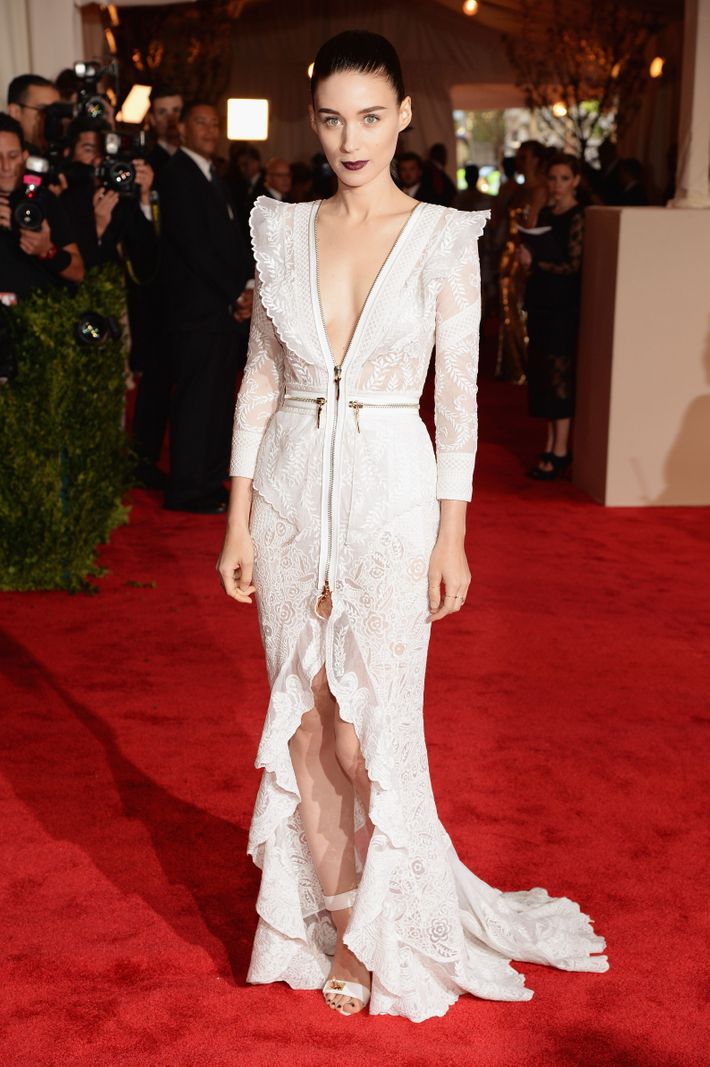 Rooney Mara 
We actually thought Rooney might have gone even punkier than this — sure, it's enviably intricate, but it also veers a bit toward the bridal. But this Givenchy is complicated enough to keep her from looking dull, and for once, the black lip really sells it. Like, this girl might be getting married, but at least she's not happy about it. Give your makeup artist a raise, Rooney, because this time she saved you.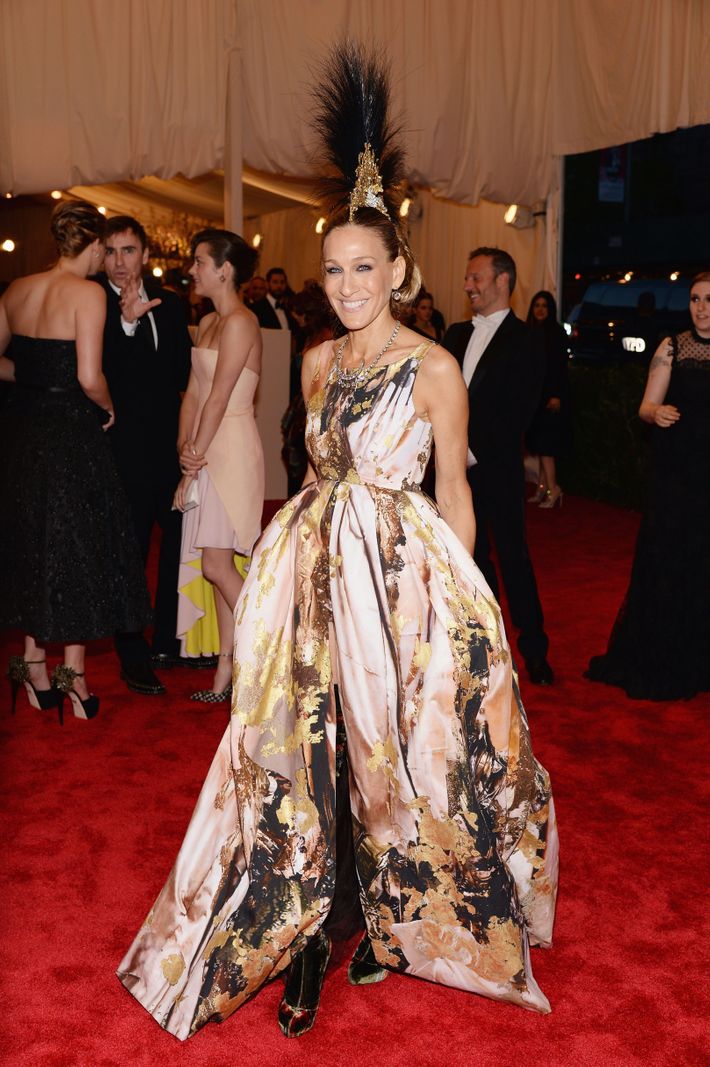 Sarah Jessica Parker 
We should have known that SJP wouldn't let us down. It's just that she burned us last year, showing up in that sad and musty Valentino — and we were scared to trust her again. So it's a relief to see her fashion pendulum swing back to the crazy side, both as the only person to actually approximate a Mohawk (with help from milliner Philip Treacy) and also thanks to the wicked thigh-high custom flannel Louboutins under that paint-splattered Giles Deacon ballgown. Parker really went there. And we have to think that the celebs who decided to play it safe regretted that decision when they saw her standing at the bar wearing this. Hopefully, at least one of them bought her a drink.