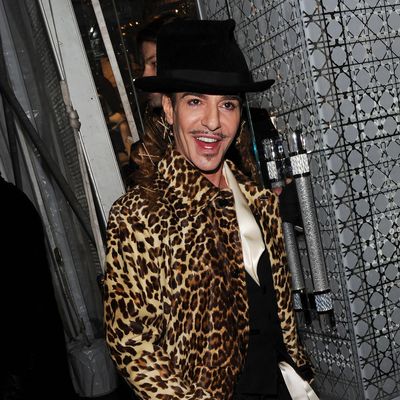 Galliano.
Photo: Jason Kempin/Getty Images
Now this explains why Galliano refused to do a question-and-answer forum at Parsons: He has agreed to participate in a Vanity Fair profile, which traditionally comes with all sorts of exclusivity agreements. This forthcoming tell-all story, out in the magazine's July issue, will mark Galliano's first real interview since his fateful anti-Semitic ramblings ended his Dior career. He has since given a few brief quotes — namely when Oscar de la Renta took him in as a designer-in-residence in February — but otherwise lets his publicist, Liz Rosenberg, handle the talking.
As for why Galliano decided to go with Vanity Fair for his grand coming-out, WWD speculates:
Negotiations before such a high-profile interview would include discussion of any topics that might be covered, but Rosenberg [Galliano's publicist] declined to go into specifics or why Vanity Fair was chosen as the vehicle for Galliano's awaited confessional. One advantage Vanity Fair had is that the interview was conducted by Ingrid Sischy, whose position as the coeditor of Italian, German and Spanish Vanity Fairs likely means broad play among several international editions, an attractive selling point for someone eager to make a bold reemergence.
So, this article will be EVERYWHERE — as always, Galliano doesn't do anything by halves. Meanwhile, one wonders how much Anna Wintour, a longtime Galliano supporter, had to do with this arrangement. In her new role as "artistic director" of the publishing house, she "advises" all Condé Nast publications, including Vanity Fair. If she played yenta in this match-up, then the resulting story will surely be quite sympathetic.