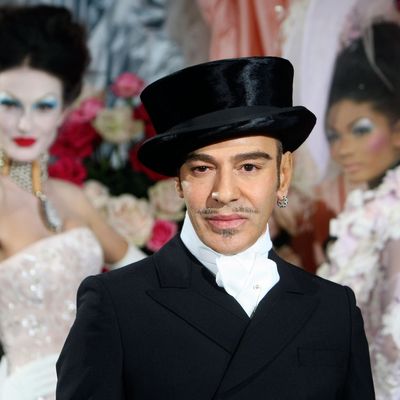 Galliano.
Photo: Jacques Brinon/Corbis
John Galliano's controversial workshop at Parsons, a three-day master class called "SHOW ME EMOTION," has been canceled. According to an e-mail sent to students a few minutes ago, Galliano refused to participate in a forum that would include a "frank discussion" about his career's "trajectory" — i.e. those fatal anti-Semitic remarks that cost him his job and reputation — and so the whole thing was called off. Here's the full e-mail from Parsons.
To the Parsons community:

We are writing to follow-up on messages we shared with you on April 26 about the planned workshop with John Galliano. It was a condition of our agreeing to host Mr. Galliano that we also hold a larger forum, which would include a frank discussion of his career. Ultimately, an agreement could not be reached with Mr. Galliano regarding the details of that forum, and so the program will not move forward.

As we have expressed over the past weeks, a critical element of a New School education is the connection between creative and intellectual invention and an individual's actions in the world at large. While we understand the pressures Mr. Galliano faces, we expected to invite students, faculty and staff to ask Mr. Galliano how his trajectory as a designer was changed by his offensive remarks and to learn from that example.

We continue to believe there is room at Parsons to explore Mr. Galliano's efforts to make amends for his actions and that members of our community will decide for themselves how to view his contributions. It is certain this would not have been an easy or comfortable conversation but our mission is to provide uncommon learning opportunities that transcend the boundaries of the disciplines. We apologize to those students who anticipated participating in the workshop and to all those who looked forward to engaging Mr. Galliano in discussion.

Over the last several weeks, many members of the university community wrote to express their views about this visit. Regardless of your opinion, you remind us all that it is our commitment to debate, and our willingness to support the possibility of change, that makes Parsons and The New School such an extraordinary place to learn.
It's signed by David E. Van Zandt, Tim Marshall, and Joel Towers, the president, provost, and executive dean, respectively.
Well, so much for that. (And props to the school for sneaking this announcement on the day when fashion media would be dominated by Met Gala coverage.) There's always Central Saint Martins?