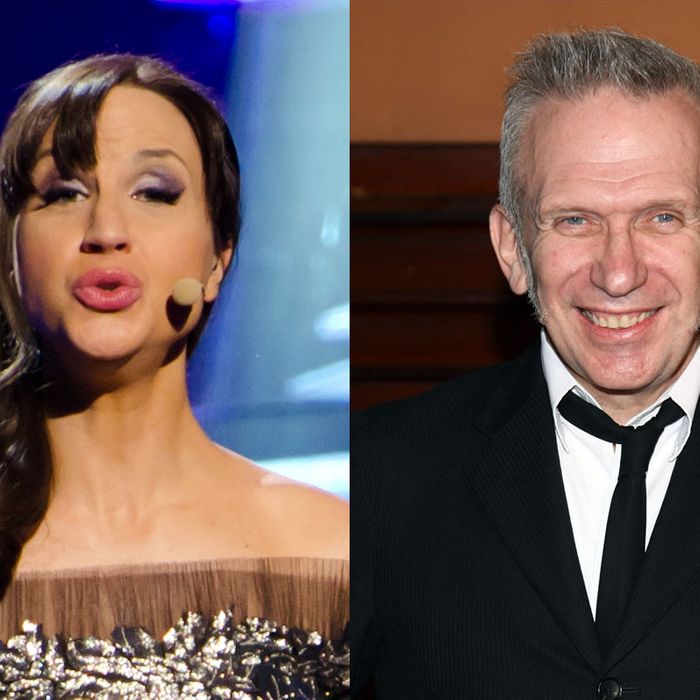 Photo: Eurovision, Getty Images
Depending upon whom you ask, the Eurovision Song Contest is either an unbearable kaleidoscope of sequins, camp-as-you-like dance routines, and nonsense lyrics; or, for precisely these reasons, the single best Saturday of the year. Not familiar with this europop spectacular? Simply put, Eurovision is an annual competition in which each member country of the European Broadcasting Union (EBU) submits a song to be performed on live television. Each country then casts votes for the other countries' songs in a process that involves public telephone votes and professional juries. Confusingly, EBU countries include those that are not technically part of Europe, which means that places like Russia and Azerbaijan are in the mix. Its debut was in 1956, conceived as a way of uniting war-torn Europe. Since then it has introduced (or inflicted the world with) acts like Abba, Julio Iglesias, and Celine Dion, evolving into a kind of X Factor–on-steroids shindig with baffling costumes, catchy songs, and an insatiable appetite for pyrotechnics.
Whoever wins has the honor of hosting the next contest, and this Saturday, the task falls to last year's winners, Sweden, who will be staging the grand finale in the city of Malmö. It promises to possess the ingredients for a perfect Eurovision final: Armenia's song was penned by Black Sabbath; the U.K. is tactically deploying eighties soft-rock belter Bonnie Tyler; Greece's kilt-wearing act sings about free alcohol; and Ukraine's contribution features a dumbstruck medieval giant.
Then there's the politics. Despite the well-meaning intentions of the Eurovision founders, this is the place where age-old allegiances and grudges can rear their glitter-encrusted heads. While a finely crafted tune will still receive the maximum 12 points, there is a tendency for neighbouring countries to vote for each other, while the UK's zero points total in 2003 was interpreted by many as backlash against its involvement in the Iraq war. (Although this could be a convenient misreading of the fact that the UK's 2003 entry just wasn't very good.) In 1998, transsexual artist Dana International was chosen to represent Israel with her song "Diva," and received a torrent of opposition from conservative groups in her own country who attempted to void her participation. But Eurovision Song Contest viewers embraced her performance and she went on to take first place. This year will see Finland's entrants incorporate a lesbian wedding kiss in their act, and it will be interesting to see who'll hand 'nul points' to Germany thanks to Angela Merkel's fiscal whip-cracking.
At the center of all this is Jean Paul Gaultier, who is dressing the host of the competition, a woman named Petra Mede (above left). A self-confessed Eurovision obsessive, Gaultier loved the competition so much that he wanted to get involved, and since 1991, he's dressed several of France's entrants as well as the aforementioned Dana International. We asked him explain his to explain the extravaganza of politics and spandex to Americans, who will have to resort to streaming the contest online.
How would you describe Eurovision to someone who has never seen it before and assumes that everything European is chic and cosmopolitan?
An eruption! It shows different cultures around Europe, but it's also amazingly kitsch and fun. It's hilarious, non?
When did you get into the gloriousness that is Eurovision?
When I was a child, which was a long time ago because now I am an old man. I started watching it at the end of the fifties with my whole family. It was a great time for Eurovision in France because we were always winning! Even people like Serge Gainsbourg got involved in the sixties. They were big hits — of course, you don't get that now, and that makes me sad. It was so joyful and fun that I couldn't help but get hooked. I started watching it with my friends in Paris. Now I'm obsessed. When I heard that there was a stage show about Eurovision in London [entitled Eurobeat the Musical, tragically now closed], of course I had to come over from Paris to see it.
How did you start getting involved with designing outfits for the shows?
I loved it so much that I just wanted to participate. Not by singing — that wouldn't be fair on anyone — but by doing the costumes. Amina [whom Jean Paul dressed for the contest in 1991] almost won. That was sad; I still remember all the points. She got the same total as the winner, but not the same amount of [perfect scores, which serve as a tiebreaker.]
And then you dressed Dana International twice. She has caused her fair share of Eurovision controversy.
Dana International was a fabulous experience. People didn't want her to represent Israel, but it was the first time that the public could vote and she won. [Editor's note: 1998 was the first year that viewers could vote by telephone; points were awarded by juries of music professionals prior to that.] I was so happy. She is such an amazing diva and she knew how to do visual spectacle, which is essential to great Eurovision.
What makes excellent Eurovision fashion?
It has to be spectacular, distinctive, over-the-top — it's a big show, so this is not the time for minimalism or restraint. Fun is the most important thing when it comes to Eurovision. To be honest, it's not about the clothes, it's about an overall look. The best acts are the ones that walk on and make you say "NO WAY." Like the group who dressed as monsters [Lordi, Finland's winning entry in 2006]. They were amazing. I once did fashion commentary for the Eurovision final on French TV, but it was difficult because I couldn't really say what I thought. I wanted to be quite polite, but you know, it was hard because there were some women there who looked like Donatella Versace.
Who are you rooting for this year?
This year I really want Bonnie Tyler to win. I love her; when I heard she was participating, I was like, oh my God, that is fantastic! I hope she wears extravagant clothes. I should have asked to dress her, that would have been great. That is my only Eurovision regret. But this year I'm dressing the presenter, so I couldn't. Another time …
What do you make of France's effort this year?
Armandine? She is from that pop idol academy thing … I think she is okay, but I think we could have something more extreme, bigger and better. I don't know. I've been watching it for years and years and years, and I love it when it's something different, like when Patricia Kaas performed for us, even though she was a big star. There's a bit of a snobbish attitude towards Eurovision in France.
What's it like chez Gaultier on Eurovision final night?
If I'm at home, I invite around some old friends and we vote as if we're the jury. We don't take it as seriously as we used to because whatever we think, Belarus or somewhere will win because of the voting politics. It's better to rate them on kitschiness and how much we love them.

Do you think that the competition gets hijacked by the politics?
The voting has changed and that's a good thing. Before it was only the people in the North of Europe who could vote; now Serbia, Ukraine, and Russia all vote for each other, and France, Ireland, and England do the same. What I find strange is that countries that have been at war tend to vote for each other. They like to show they forgive and forget. Like Serbia and Croatia, for example; they fight, but they are friends on the Eurovision stage. In some ways, you could say Eurovision is about peace — maybe a big Eurovision show is the answer to world peace.
Despite the "Euro" prefix, eligibility to enter Eurovision is not restricted to countries within Europe. Given these hazy rules, are there any American acts that could do the competition justice?
Fabulous and American? That's easy: Liberace. It should be funny, don't you think? I also think that Björk should represent Iceland. I'd love that.
As a connoisseur of all things Eurovision, can you describe the ingredients for the perfect Eurovision act?
It has to be a spectacular, with a great voice and a big theatrical performance. Most of all, it needs to be funny. Those are the best things — the only things, in fact. Or something unique that is very symbolic of the country. Beautiful can be difficult to find in Eurovision … I tend to prefer the funny, funky songs; for me, that is Eurovision. Or when Turkey did opera in the eighties. That was superb.
What's your advice for a Eurovision virgin preparing to watch for the first time?
Take an aspirin, put in earplugs, and be ready to change the TV channel. No, I joke! Just go with it and enjoy it. There's so much energy that it is addictive. Just make sure you have an open mind and you'll see that it's fabulous.