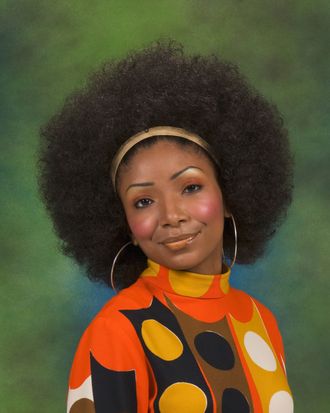 For a generation with unprecedented levels of experience having their picture taken, high schoolers these days are pretty uptight about their senior portraits. According to The Wall Street Journal, the old gray backdrop, chin-resting-on-your-closed-fist scenario has been replaced with "a magazine-style photo shoot, complete with professional hair and makeup, dozens of poses and several changes in clothes." Seventeen-year-old senior Britain Powers hired photographer Brittni Schroeder to take her senior portrait in an old warehouse in El Paso, Texas.
[She] stepped in front of the camera as her entourage looked on. Leila Soto, a professional hair stylist and makeup artist, had spent two hours perfecting Britain's tousled waves and shimmery eyelids and now stood at the ready for lipstick touch-ups. Britain's mom, Noelle, had a laundry basket full of wardrobe options, including five outfits, three belts and tights in several colors. […] Ms. Schroeder offered the teen instructions after every snap. "Turn your head toward me. Gorgeous!" Click. "Close your mouth." Click. "Make sure you don't wrinkle your forehead." Click. "Little bit of a smile." Click. "No smile but happy." Click. "You are so pretty!"
The top model treatment can get expensive. A Denver photographer told the Journal he charges a fee of about $249, plus $75 for professional makeup (a complimentary consultation with a stylist and use of clothes from the studio's extensive closet is included). His average order of photo prints comes out to $2,200. It may sound extravagant, but the experience could teach your daughter a priceless lesson about photo-retouching.
"My face has never looked that flawless with no blemishes before," said Kristina Avila, a 17-year-old from El Paso, who was voted "Most Fashionable" in her class this year. "It's just so reassuring."
Professional photographs also work better than selfies: Kaylee Grodin's senior portrait broke her Facebook "likes" record.