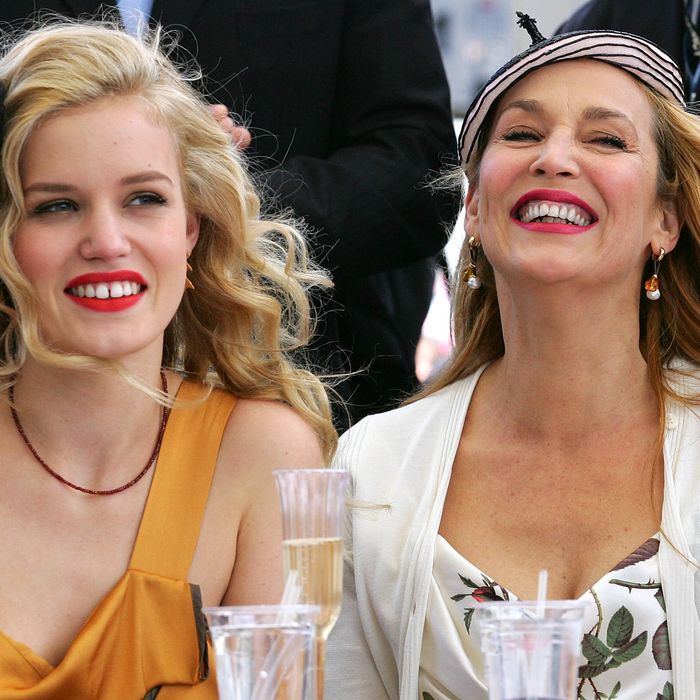 Photo: Scott Barbour/Getty Images
Twenty-one year-old model Georgia May Jagger (daughter of Mick) dished about her beauty routine to Into The Gloss this week alongside her model mother, Jerry Hall. Young Jagger confessed her love for watching movies via laptop while bathing and a time she pierced her ear with a safety pin and got an infection. Living on the edge! She also named her mom's "more-is-more" approach as her beauty inspiration. Below, choice moments from their easy mother-daughter banter, where they adorably finish each others' sentences. The new Jagger-Hall mantra: Big hair, don't care.
Georgia May Jagger: For makeup, I have a much more glamorous approach, which I got from my mother. They say less is more, but sometimes I'm a bit more-is-more.  And that came from my mom.

Jerry Hall: I like false eyelashes and red lipstick.

Georgia: I like minimal makeup, too, but I think red lipstick and big hair is a good way to go. In our family, that's always going to be there. [Laughs]

Jerry: I would try to copy what some of the good makeup artists had done on me in Paris. Now, I like black eyeliner and —

Georgia: Gold and bronze eye shadows, like the one I'm wearing now.

Jerry: She's got safety pins in her ears!

Georgia: You won't let that go! But it's gold! It's a real earring. It's not a real safety pin … although I did pierce my ear with a real safety pin when I was 14, but you didn't see that at the time. It got horribly infected — my friend just sterilized the pin with a lighter.