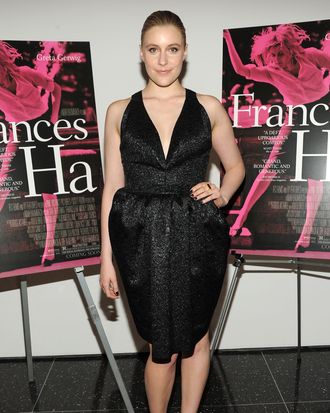 Greta Gerwig.
Photo: Ben Gabbe/Getty Images
Actress Greta Gerwig wore a black silk brocade dress by Balenciaga to the premiere of her new movie, Frances Ha, at the Museum of Modern Art in New York last night. The dress is from the label's pre-fall collection, which was designed by the studio after Ghesquière's departure in November. (Both Julianne Moore and Carey Mulligan debuted Alexander Wang's first designs for Balenciaga to the Met Gala on Monday.) Gerwig has really upped her fashion credit lately — she went to the Met in Saint Laurent — and this dress suits her well. Still, she avoided looking too clotheshorse-y by skipping jewelry and keeping her makeup and hair minimal.
* This post has been corrected to show that the dress is from Balenciaga's pre-fall collection.