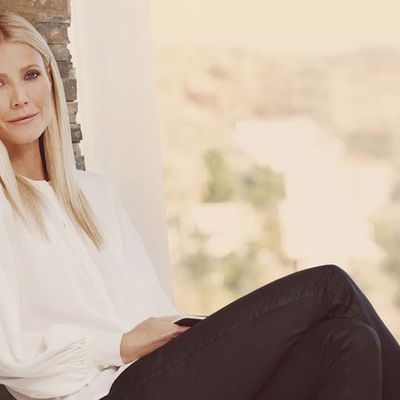 Gwyneth Paltrow is the face of Hugo Boss's latest scent, Jour Pour Femme, the daytime counterpart for its Nuit Pour Femme fragrance, which she also fronts. In an interview with WWD, Paltrow gushes about how great it is to have a job that only requires a few days of her time. "I always say this, but it really is such a perfect job when you have kids." Or a perfect job in general! She continues:
I can only really do one film a year now because of my family and how it all works out, so it's so nice for me to be able to work for a great company and, you know, I'm going to Spain next week for two days so I still get to travel and meet really interesting people and have a work interaction. But it's not like I am out of the house for three months.
No, it's not like that at all. Obviously, Paltrow has lots of other commitments, too, like Goop and working out, so it's not like she just lounges around all day eating macrobiotic bonbons. Indeed, she even narrates a "day in the life" of her schedule, which is obviously fascinating:
I wake up at 7 a.m., I get [the kids] fed, and I get them dressed in their uniforms, any bits of homework are finished… [Then] I take them to school. She [Apple, now 9] gets dropped off at 8:25 a.m., and he [Moses, now 7] gets dropped off at 8:45 a.m., so we have a croissant together in his school dining room and we do reading together. Then I go home and I work for one hour on all the e-mails that come in overnight from L.A. Then I exercise from about 10 a.m. to 12 p.m. Then I work on Goop [the digital media and e-commerce company she founded] pretty much the rest of the day until I pick up my kids and then they have various activities.
Note that the ratio of hours spent on e-mails to hours spent working out is 1:2. That explains so much.