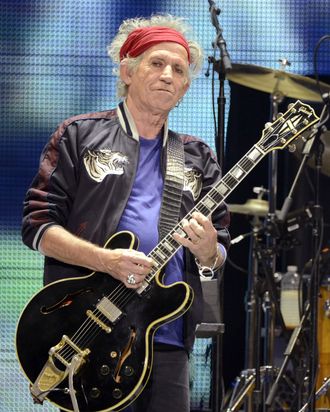 Keith Richards.
Photo: Tim Mosenfelder/Getty Images
Rolling Stones guitarist Keith Richards is the latest subject of Hedi Slimane's ever-expanding Saint Laurent Music Project, only he gets VIP treatment: Slimane has made him a bespoke wardrobe for the Stones' upcoming 50 Years and Counting tour. The "Keith" pieces consist of a waistcoat, a leather jacket, several silk scarves, and long- and short-sleeved T-shirts, all of which will be available for sale as part of a special range called Saint Laurent Stage Wear by Hedi Slimane.
Although Slimane has partnered with a bevy of musicians including Kim Gordon, Daft Punk, and Courtney Love for his ad campaigns, Richards is the first one to get his own namesake garments, according to the Telegraph. The "Keith" jacket alone will cost $4,850; here's hoping it's infused with Anita Pallenberg's perfume and comes with a free pack of cigarettes.