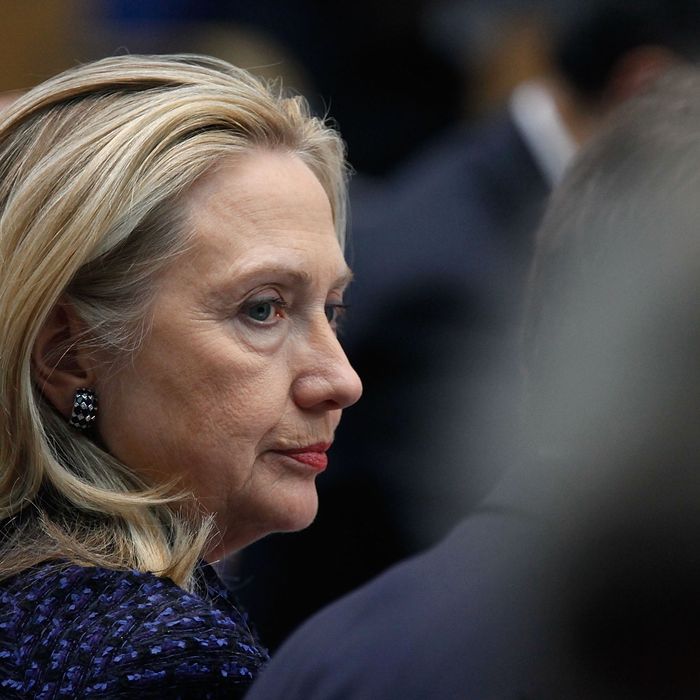 Photo: Ralph Orlowski/Getty Images
Now that the Obama administration has said that it will challenge a federal court ruling that Plan B must be available over the counter to women of all ages — and while everyone's thinking about 2016 — some fans of reproductive justice would like to remind you that Hillary Clinton would never have let this happen.
As a senator, Clinton tried to block President Bush's nominee to the FDA until the debate over making Plan B available over the counter was decided, recalls the National Journal. "Sen. Clinton, along with Sen. (Patty) Murray and Sen. (Barbara) Mikulski and some of the women in the House were stalwart champions of keeping FDA decision-making based on science and medical evidence," Susan Wood, the former FDA assistant commissioner for women's health who resigned over the stalling on Plan B, told the magazine. "I was very disappointed in this administration for not sticking with its pledge to scientific integrity."
The FDA's decision to lower the age-limit restriction on the morning-after pill from 17 to 15, which Obama said he supports, is a step in the right direction. But requiring proof of age creates an obstacle, which, because the drug's efficacy drops with every hour, could be the difference between it working and it not working. Last month, a federal court ruled that there's no scientific justification for an age limit on a pill less dangerous than Motrin and Sudafed, which is what Clinton has been saying since 2005. The FDA made the same ruling in 2011, but the decision was overturned (an unprecedented occurrence) by Health and Human Services Secretary Kathleen Sebelius.
The Center for Reproductive Rights, which is busy suing the state legislatures passing unconstitutional abortion restrictions, said it was "deeply disappointed" with Obama. NARAL, which endorsed Obama in the 2008 primary, said the President "opted to ignore science," and called him "out of step with the reality women face every day." Stephanie Schriock, president of women's rights fundraising group EMILY's List, praised Obama for his leadership on Lilly Ledbetter and the Affordable Care Acts, but said, basically, this is what happens when we don't elect women. "What I believe is, what will happen as we elect women to the presidency — not just one, but we're in this for decades — that it brings a different set of life experiences that are very unique. It's clear when women's voices are in the room, you have a much broader dialogue about what is facing women regarding health care."