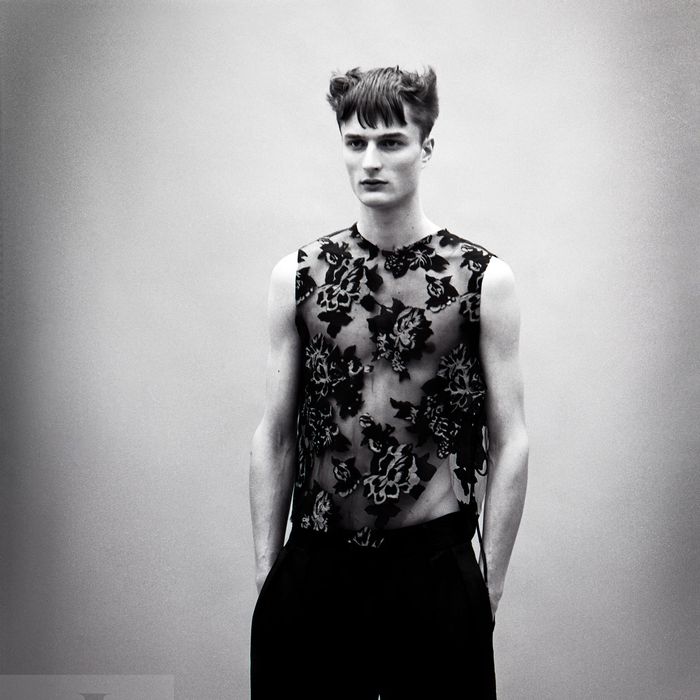 Photo: Leon Mark for issue #1 of J Magazine
When James Worthington DeMolet, stylist and the former creative director at The Block magazine, ran into a funding obstacle for his next Block issue, he decided to venture off into the world of Kickstarter to create a publication of his own: a social-themed fashion publication titled J Magazine.
DeMolet, who's styled for Elle, GQ, Teen Vogue, i-D, V, VMan, Interview, and Harper's Bazaar over the years, is now looking to exclusively pair social issues with fashion for each issue of his publication. The magazine's first theme is "Neo-Feminism," and its 200 pages are stuffed with concepts including "neo-styling tips" in feminine-seeming menswear from designers including Versace, Rick Owens, Phillip Lim, Dries Van Noten, and Raf Simons; Q&As on feminism with a plus-size model, dominatrix, and Playboy Playmate; interviews with entertainers like Aubrey Plaza and Eve; plus a breakdown of the difference between "feminine" versus "feminist" dressing.

The Cut spoke to DeMolet about his decision to create a new fashion publication, about the blurring lines between "masculine" and "feminine" trends, and how sexuality plays into personal style all before the Kickstarter campaign for the magazine ends this month. Plus, click through the slideshow for a preview of a Yohji Yamamoto photo shoot from the debut issue (then donate if you like what you see).
You first got started being a creative director The Block magazine. J Magazine is a completely separate publication, right?
Exactly. I had started to work on the spring/summer issue of The Block, and the publisher wasn't able to fund the project any further. There had been some content that we had originally produced for that, and I contacted all the artists we would have potentially created something with The Block and took the idea of neo-feminism and decided to create my own magazine with that.
Were you always interested in feminism?
In terms of social issues, it seemed like the one at the forefront, and it was also a topic I was interested in hearing from designers, stylists, photographers, and actresses … what they all felt about it. In recent conversations, I think it had a lot to do with the Sheryl Sandberg book, but [feminism] was kind of polarizing for this generation. There were some people who are comfortable with the word and other people who feel like it's too strong of a word, so that was my idea — to speak to people who believe that their work is empowering women and also to hear what they think of the word feminism.
You also seem to cover "feminism-inspired menswear." Could you define that?
It was trends that I saw in the menswear shows that seemed to be informed by womenswear trends. My statement is essentially that social and political issues fuel the way that fashion goes. In the idea of thinking, Should I explore feminism? the trends in menswear seemed to go in very feminine directions — skirting, metallics, lacing, florals, pastels, and all these typically womenswear trends that were really pervasive in these menswear shows.

What is the difference between "feminine" and "feminist" clothing?
I don't even have an opinion on it, but all of the stylists had really specific opinions on how they felt that a feminist story should be! One of them was approaching tuxedo dressing and having it still maintain a sex appeal without having it be too gratuitous. She did it in a way that could feel sexy but didn't involve using constricting clothing. It is a way of empowering women to still feel sexy and feminine, but not feel like they're exploiting their body.
Would you say that "feminist dressing" is inspired by menswear, and vice versa?
Yeah, a lot of the artists, when they described feminist trends, a lot of them would involve menswear trends. I think that's the same for menswear trends inspired by womenswear. I was interested in this kind of blurring of gender norms in fashion.
What else surprised you from the first issue?
I was shocked for the most part as to who would say that they were comfortable with the word feminist and who wasn't. Aubrey Plaza, the comedic actress, was one of the only people that I spoke with who said that she was comfortable with the word feminism. She went to an all-girls school, and it was just ingrained in her. It's not even a conscious  effort of "I have to empower women." I also spoke to the rapper Eve, and she said the word is too strong for her. 
Do you think this new style of dressing is connected to sexuality? We brushed up on the blurring of gender lines when you mentioned "feminist clothing" can be slightly masculine — but for "feminine menswear," do you find that it's somewhat connected to gayness as well?
I don't think a blur of gender norms, when it comes to dressing, is at all connected to sexual preference. Offhand, I can think of many guys I know who would rock a Rick Owens dress or floral suiting or any of these other "feminist menswear" trends we singled out in this issue who are straight. A guy who is into wearing a J.W. Anderson lace top or a Burberry pink metallic trench, him pulling it off has everything to do with confidence and nothing to do with sexual preference. We're not talking about drag here; this is about top menswear designers informing their collections with classic womenswear trends, but interpreted specifically for guys. Pastel suiting in Givenchy is still cut for a guy's physique; there's nothing feminine about the cut, but it's done in a typically feminine shade. Or the skirting in Comme des Garçons that's been seen in many recent collections, its shape is more like an Irish kilt for guys, but done in lengths that has more of a womenswear vibe. Whenever I wear mine I get more compliments from straight guys than I do gay guys. Unfortunately, middle America is still not 100 percent ready for these trends; when I visit my family in North Carolina, I leave my CdG skirting at home.