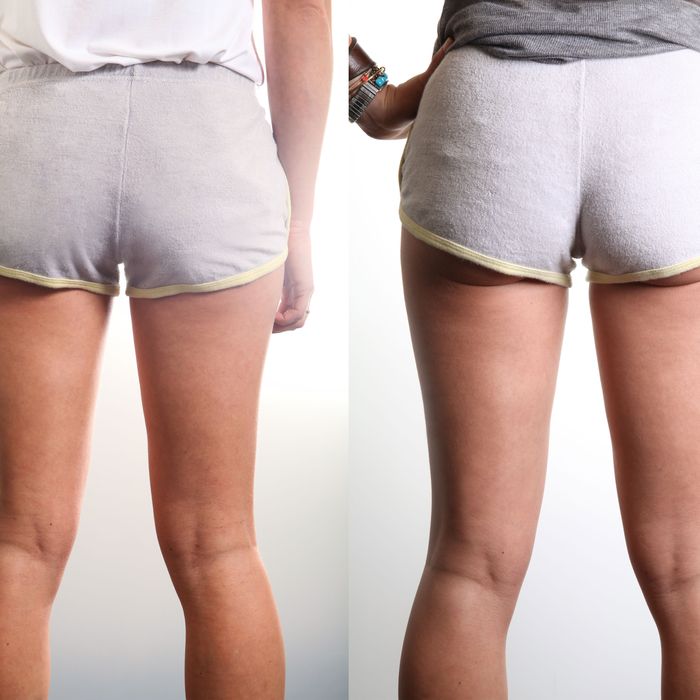 Ever since it opened in my neighborhood last fall, I'd been intrigued by Barry's Bootcamp — the boutique-fitness chain known for its sprints, squats, and teaching of celebrity fans like Jessica Alba — but couldn't justify the pricey $34 classes.
But then, last month, Barry's and the beauty brand Clarins launched a series of free workout videos on YouTube, which promised to firm, tone, and eliminate cellulite, so long as I bought Clarins's new Body Lift Cellulite Control cream. The program is called Four Weeks to Sleek, and it specifically targets your butt and thighs.
For one month, you complete a series of exercises custom-created by Barry's co-owner Joey Gonzalez, which take about five minutes a day and incorporate their $9 Booty Band (it's not required, but it helps). After your post-workout shower, you slather yourself in Body Lift, using the proper, massagelike application technique (who knew there was such a thing?) that's also illustrated in the videos. Your pores, opened up by the exercise, will slurp up ingredients like celosia-flower extract and sunflower seed oil, which trap fatty tissue, stimulate circulation, and flush out the excess water that appears in fat cells as, yup, cellulite. Add in Gonzalez's slenderizing blend of cardio and strength training, and your cottage-cheese zone is supposedly toast. Even as someone whose main problem area is further north (see: love handles), the regime seemed worth a shot. What did I have to lose?
Week 1: I set the glossy red tube of lotion on my bathroom counter and perched my laptop on an ottoman, shifting all other furniture out of arm's reach. I Velcro the resistance-boosting Barry's Bootcamp Booty Band to my ankles, which promises to accelerate results, and pull up the first of four tutorials. "Let's get that heart pumping with a good old-fashioned set of jumping jacks," Gonzales tells me, a blonde Lululemonite-type demonstrating at his side. In truth, my heart is already pumping with trepidation — it's been a while since I've tested my glutes beyond the 5.0 incline of the treadmill — but I remind myself this won't take long; the interval routines are designed to burn fat in just a few minutes' time. Soon, I'm squatting, knee-to-elbow lifting (60 seconds on each side), and done before I know it, just as I'd hoped.
After my post-workout shower, I then carefully follow the product-application instructions given to me by Melissa, who is the Clarins specialist on the YouTube video (and not to be confused with her doppelgänger, the other blonde in the workout segment). I warm it in my hand and gently knead it upward, from ankles to saddlebags, using big, sweeping motions. As it turns out, the lotion has a slight Vapor Rub sensation, but that's nothing compared to the burning my muscles will endure week two.
Week 2: I've worked my way up to 90 seconds of elbow-to-knee squats on either side, and tacked them on to my twenty-minute treadmill routine, which typically involves a lot of morning television and little more physical exertion than a Charlie Rose interview. So I move on with the ritual. The second video centers on more alternating cardio and resistance; this time, there are flying lunges. Don't be fooled by Gonzalez's lighthearted nickname for these "flunges": I can barely manage five in a row without losing my balance/will to live. I'm still panting asthmatically when he introduces a set of knee-raises. Trying to make it up stairs the next day(s), I could've been lapped by Betty White.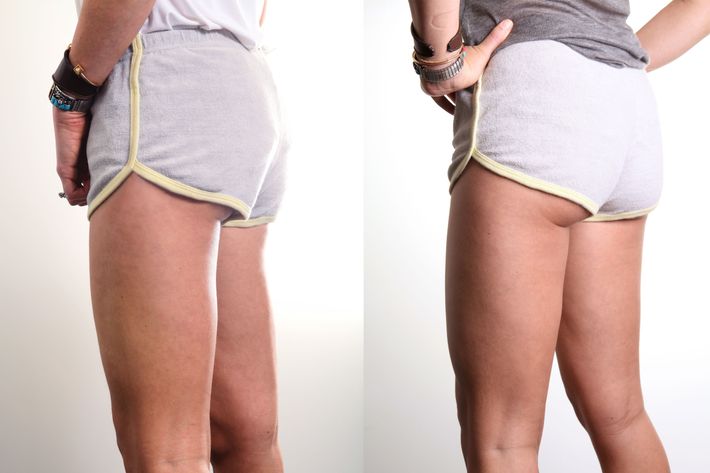 Week 3: Thankfully the muscle soreness wasn't all in vain, as it seems to have created real muscle mass. Melissa from the YouTube video reassures me, I'm "only two weeks away from a firmer silhouette," but already my wide-leg jeans are tighter in the butt and looser in the hips.  The next set of exercises calls for "burpees": jump in the air, squat down into a pushup position (and if you're brave, do an actual pushup), and repeat. "Not easy," as Gonzalez notes, but then you go straight into bent-knee raises on the floor, where you can collapse a minute later.
Week 4: I've decided to finish up the program in an à la carte fashion, incorporating favorite moves from all four sessions, including burpees, basic squats, and (now) even flunges, as well as one-legged hops (a new addition in the videos that I swear has done wonders for my calves). I end in a side-plank position, hips off the floor, scissor-lifting my top leg. My abs, shoulders, hamstrings — pretty much every muscle in my body — quiver, but I do feel strong.
I also feel the firming effects of the cream, although the caffeine, menthol, and other skin-tightening ingredients seem to wear off after a few hours. What persists, however, is the decreased dimpling in back of my thighs (luckily I didn't have too much to begin with) and the (almost) baby-soft texture of my skin, including on days I go lotion-less.
I now apply it to my upper half, too, where I notice similar results — even at the love handles.