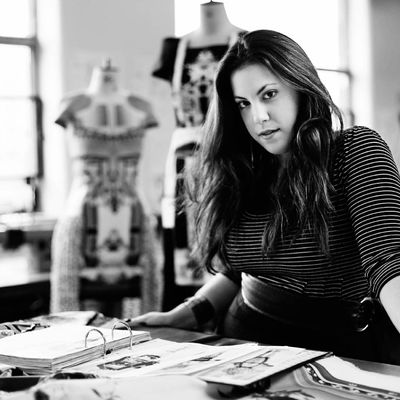 Mary Katrantzou has the kind of buzzing, productive energy that you can only sustain if you never stop moving. On the day I meet her, she's just returned to London after a trunk show tour of the U.S., where she met several of her most ardent fans.
"One woman came with seven dresses that she has accumulated — one from every season," she says, visibly thrilled. "She brought them to be signed! It was too cute." Everything she says is delivered at rapid speed, with great enthusiasm, plenty of humor, and an appealing Greek twang. "I'm not one of those designers who isn't affected by seeing somebody wearing my clothes. It makes me really happy and proud."
At fall 2008's London Fashion Week, Katrantzou opened the Central Saint Martins master's show with a small collection of trompe l'oeil dresses printed with graphic, oversize jewelry. She was a 25-year-old graduate, brand new to the fashion industry and still unsure whether she had the talent to launch her own label. Five years later, her womenswear brand is sold by 240 retailers in 56 countries; she has carved out an unmistakeable design signature combining digital prints and sculptural shapes; and her show is one of the most coveted tickets of fashion week.
Though that graduate collection showed potential, to review it now is to see how dramatically this designer has progressed. Katrantzou is known for a dedication to print, but the polish with which she reinvents the look each season shows that she's no one-trick pony. Born in Athens, she trained first in architecture at Rhode Island School of Design — this eye for structure has propelled her label forward, with form increasingly as important to her collections as color.
When I arrive at her studio in north London, Katrantzou is standing outside, speaking animatedly into a cell phone in her native Greek and smoking a cigarette. She is dressed, as always, in head-to-toe black (in contrast to her designs, which have always been full of kaleidoscopic color).
Until the recent fall 2013 collection, that is. It had a moodier, dreamier theme, with ghostly landscapes printed in a muted palette — and the change of direction divided critics. Sarah Mower, one of Katrantzou's earliest supporters, wrote a review full of disappointment: "It seemed Mary Katrantzou deliberately threw herself at everything that doesn't come naturally to her this season: dourness of color, reduction of print, absence of trompe l'oeil wit." Suzy Menkes, on the other hand, described the show as "one of those heart-stopping moments when fashion goes beyond the commercial or the attractive to embrace art."
The designer was surprised by how strongly the critics reacted. "It didn't feel like a drastic departure to me," she shrugs, smiling. "Over the last couple of seasons, we've worked a lot on developing our knitwear and brocades, and what we do in shape and form. I think it's very important, especially when we're defining a certain signature, to do a collection that strips away color and concentrates on the other things we do." The goal is to get customers separating their love of print from their love of her vibrancy, and to appreciate texture that comes through when you print black on black fabric. "I don't want to be stuck doing prints that are based on an object enlarged."
Having received NEWGEN sponsorship from Topshop and the British Fashion Council for six seasons (SS09-AW11), Katrantzou is a golden example of how London's mentoring and funding schemes have revitalised British fashion's global reputation. But the most significant benefit of NEWGEN has not, for her, been the money. "Being part of NEWGEN attracts a lot of international buyers and press to your show, and when you're starting it's so important to get your work seen by the right people."
Though she has more faith than ever in her work, she still suffers occasional doubts. "Am I presenting something that's new, that will excite people? You doubt your longevity."
In November, Katrantzou was among those mentioned by WWD as a candidate to replace Nicolas Ghesquiere at Balenciaga. She was surprised by the rumor, but it doesn't seem too huge a leap to imagine that she'll be offered something similar in the next few years. So I ask which brand she'd most like to join.
"Oh no, don't do that! I can't have that in print! It's too big a statement, because I wouldn't say a small one." She laughs uproariously. "Had you asked me even six years ago if I would have my own label, I would have said absolutely not. So you never know."
Today, business is booming for Katrantzou. Her lower-priced pieces (around the $1,000 mark) sell in bulk, but the most elaborate and expensive show pieces are in demand, too: Net-a-Porter, for example, currently stocks a metal-mesh and jacquard dress for $10,440. "That's what excites you, to create pieces that are really extravagant, because you know you have a market for them."
Her recent, successful collaboration with Current/Elliott has helped to test the water in an area where Katrantzou wants to move next: jeans. The brand is also introducing its first resort collection in June, and an e-commerce site is on its way. She also hopes to launch a leather-goods line, an interiors line, and what she describes as "a collaboration that's more art-related."
Business is expanding so quickly that, from time to time, she becomes anxious that the label will suffer "growing pains." They are currently recruiting on a grand scale, trying to fill sixteen new positions, which will almost double the workforce. And one unsuccessful season could knock everything off-kilter: "Had this season not gone well, we wouldn't be able to recruit, and our staff would be more overworked, and they would leave. So that risk always scares you." For now, it seems her employees would be wise to stay put.