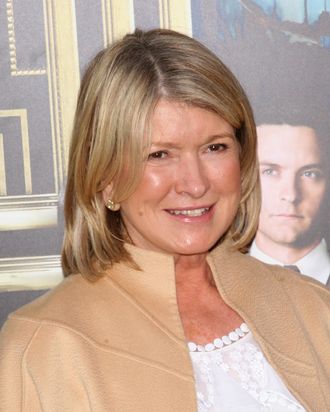 Photo: Jim Spellman/WireImage
It's weird that Martha Stewart feels like she needs a Match.com profile, when to us her tabloid adventures read like a daily advertisement of her eligibility. Yesterday brought photographic evidence of the 71-year-old's youthful, Belieber-esque spirit. She wore glittery leggings down the Great Gatsby red carpet, clutching her point-and-shoot in one hand as she gestured to her imaginary boyfriend Leonardo DiCaprio with the other.
Today, the New York Post reports she's not afraid to cut another woman — even an Olympic hero and American sweetheart who is a quarter of her age — down to size.  According to the Post's sources, Stewart didn't recognize gold-medal gymnast Gabby Douglas when they were backstage at the Today show Monday.
"Sources tell us Stewart was thrown by Douglas, dressed in a suit and heels, and abruptly asked the petite athlete, 'Who are you?' Douglas politely replied, 'I'm Gabby.' Right before Stewart was to go on air, she realized who the little girl in the suit was. The media mogul, we're told, was mortified, and tried to explain why she didn't recognize her. 'I didn't recognize you with clothes on,' she quipped."
She's like Lucille Bluth, but richer, and real.