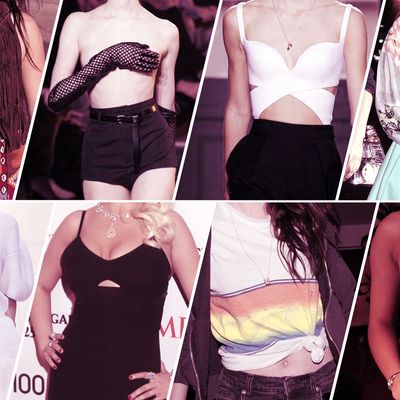 Like pollen allergens and sunburns, the crop tops of spring are as varied as they are ubiquitous. Ever since designers showed us how flattering and forgiving they can be (honestly!), slivers and swaths of naked torso have trickled down to the Zara-shopping, Rihanna-concert-going masses. No abdominal muscles — airbrushed or otherwise — required. But for those of us who never expected to go crop top, the midriff is still treacherous terrain. Like, how much belly is appropriate before noon? Is it true, as expectant rapper Kreayshawn wrote, that crop tops are not suitable for pregnant women? Do you have to wear a bra under a bra top? Does my crop top violate my employee handbook in anyway? Because it is only the dawn of the crop top era, we don't have all the answers yet. But we have analyzed all the known ways to bare one's midriff. Use The Cut's "guide" to determine what level of the look works for you— and then let's see if your old belly button piercing has closed up.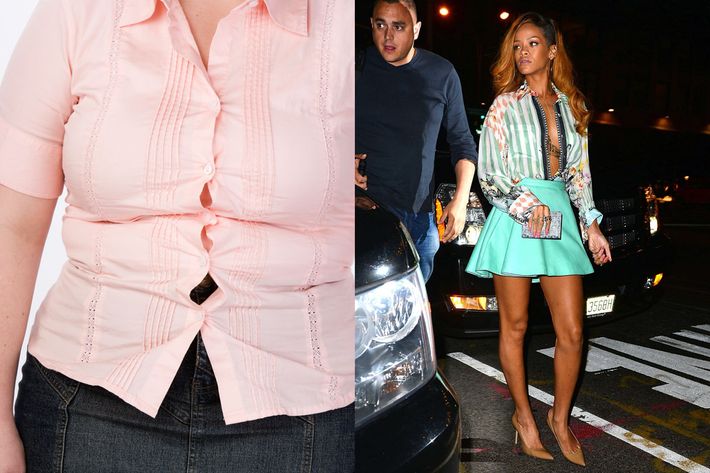 Malfunctioning Buttons Midriff
The most subtle way to embrace spring's midriff-baring trend is to wear an old button-up shirt that is ill-fitting or missing a button. Like a Magic Eye, your torso flesh will only be visible when viewed from an angle. Rihanna took this look from day to night by wearing a button-up shirt with no working buttons. Risk: Misinterpreted as slovenly by unfashionable people. Reward: Upcycling.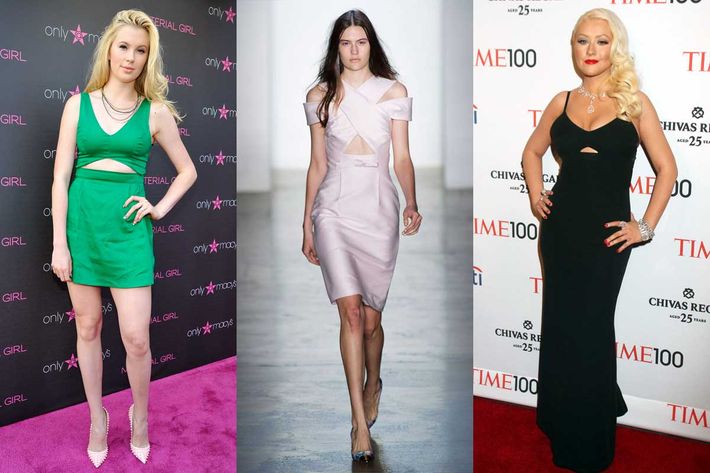 Midriff Peephole
Like a keyhole without the cleavage, the midriff peephole was so popular among the world leaders at the Time 100 gala this year, Sheryl Sandberg is rumored to be hosting a Davos panel on the look. Risk: The peephole's height will tempt ill-behaved children to poke you. Reward: With its tiny surface area, there's no reason anyone has to know about your rash.
Midriff Panel
This look gestures to two of spring's hottest trends: sheer paneling (cf. Gwyneth Paltrow) and the space between your nipples and your navel — while staying conservative enough to wear to work. You work at a well-funded start-up, right? Risk: The illusion that the bottom half of your shirt is floating away will draw uncomfortably long stares, especially from drunk people. Reward: Its thin, transparent netting will protect you from mosquito bites.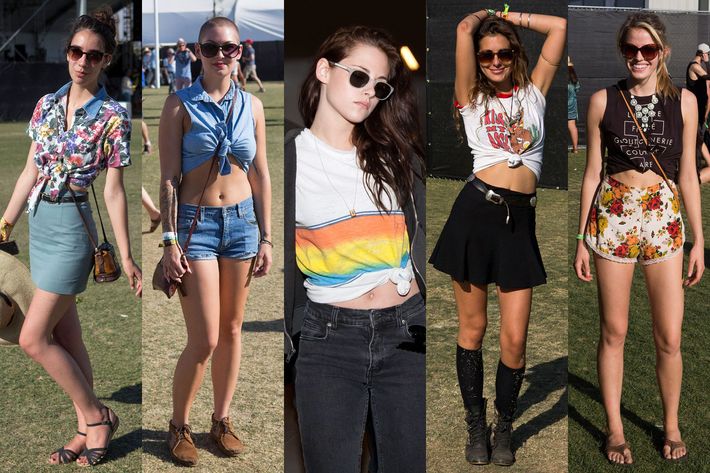 Tied-Waist Midriff
The most versatile midriff-baring option — and a staple of the grunge-revival Coachella set — of tying shirts off at the waist is not just for the hot girl in the Gilligan's Island group Halloween costume anymore. Risk: Looking like you changed in the bathroom after your mom dropped you off. Reward: Can be converted back to midriff-covering in the event the restaurant has tablecloths, your in-laws show up, or you need to wear the same shirt to work the next day.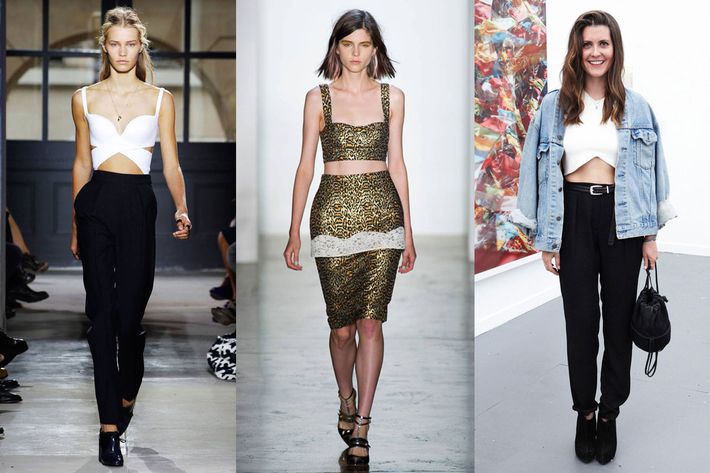 Bra Top Midriff
Offering more coverage than a bra and better tailoring than a cutoff tee, spring's high-end crop tops have a ladylike decency that takes the look from the MTV Movie Awards to wherever Shala Monroque hangs out. Risk: Matching fabrics may make it look like you outgrew your skirt suit. Reward: Sluttiest skirt suit ever!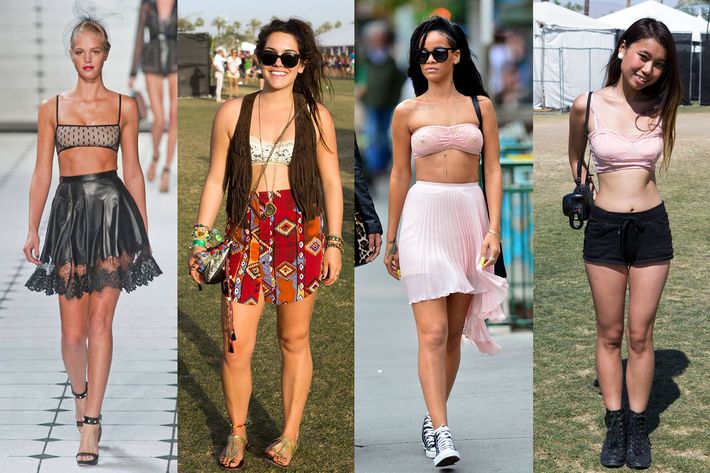 Actual Bra Midriff
If your trendy new crop top has lace detailing, underwire, or adjustable straps, then let us be the ones to break it to you: You are just not wearing a shirt right now. But, this too is on trend. Risk: Way more sheer than you thought. Reward: Show off expensive lingerie even when you're not sleeping with anyone.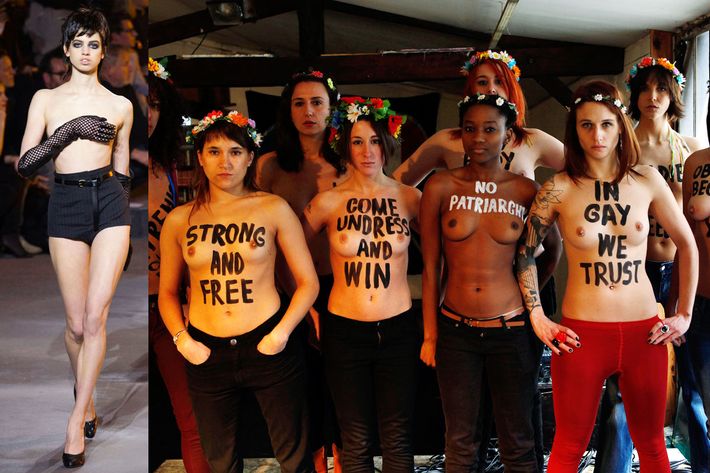 Totally Topless Midriff
The midriff-baring trend was taken to the extreme this season by Ukrainian feminist activist group Femen and fashion designer Marc Jacobs. Risk: None, legally speaking. The NYPD recently reminded officers that mere toplessness is not a crime. Reward: Newfound political consciousness, instant notoriety, having your picture taken by party photographers for once.