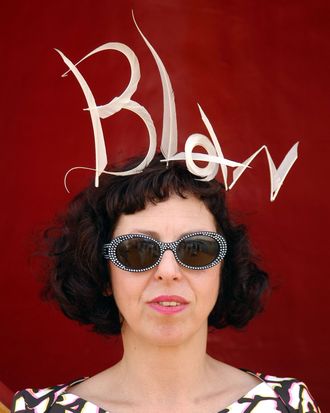 Isabella Blow, the late fashion editor and muse with a soft spot for eccentric head-toppers, will finally have an exhibit dedicated to her envelope-pushing wardrobe. The show, "Isabella Blow: Fashion Galore!," will be on view starting in November at Somerset House in London. It'll not only feature over 100 pieces (hats and shoes included) from Blow's personal wardrobe, but also touch upon her aristocratic background and her close and early relationships with fashion legends Alexander McQueen and milliner Philip Treacy.
"Isabella made our world more vivid, trailing color with every pace she took," explained Daphne Guiness, one of Blow's longtime friends and founder of the Isabella Blow Foundation, to WWD. "I do believe that in choosing to exhibit them we've done the right thing — and that it is what she would have wanted. I am doing this in memory of a dear friend, in the hope that her legacy may continue to aid and inspire generations of designers to come."
McQueen's entire spring/summer 2008 collection, which was dedicated to Blow, will be shown at the exhibit, alongside pieces by Jeremy Scott, Viktor & Rolf, Fendi, and Prada, among other designers. We expect Lady Gaga will make an appearance, just to get her claws on the mass of vintage Treacy hats that will be on view.