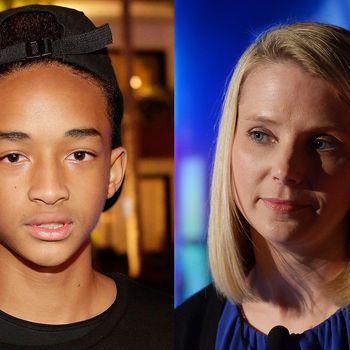 Photo: Mike Windle/Getty Images; EMMANUEL DUNAND/AFP/Getty Images
Say what you will about Yahoo CEO Marissa Mayer's $1.1 billion acquisition of Tumblr (that she will ruin Tumblr, that she overpaid, that she must crack down on its porn GIFs, that she's a bad feminist, that anyone who talks about her is a bad feminist), there's one person who's definitely got her back— After Earth star and Kylie Jenner's boyfriend Jaden Smith. To Smith, Tumblr is the Internet.
Addressing the reports that Smith sought emancipation from his parents, Will and Jada Pinkett Smith, Smith told Entertainment Tonight, "I didn't know what was going on 'cause I don't really go on the Internet except for going on Tumblr," Jaden told Entertainment Tonight. "I totally wasn't aware at all of anything." 
"We try to avoid that type of stuff," Smith père said, of the non-Tumblr Internet. "It's not true and we look at that type of information as, like, bad fuel."
Youth serum and celebrity good fuel? That's, like, a two-for-one.