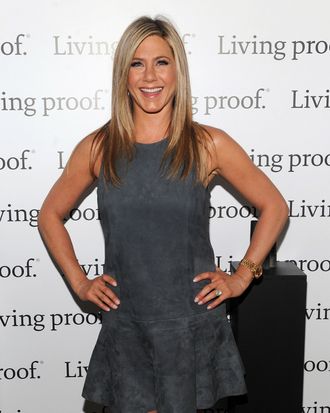 Photo: Jamie McCarthy/Getty Images
Jennifer Aniston, hair icon and co-owner of super-scientific haircare line Living Proof, knows exactly what it's like to have a bad hair day. When she was younger, she yearned for the soft, brushed-out look of Valerie Bertinelli. "I took a picture of her into the salon," remembers Aniston, "and I came out with a mullet. It was just a disaster." Since then, she's had a lifetime of phenomenal hair days, to the credit of best friend and hairstylist Chris McMillan. Aniston brought McMillan on board as Living Proof's celebrity hair expert, and now they're on a mission to change the way women think about hair with their three-part web series, Good Hair Day. (Enter their reader contest with your own "hair confession" video to win a chat with Aniston and a cut by McMillan.) Read on for our discoveries.
How Jennifer Aniston is just like us:
1. She covets other people's hair.
"I want Gisele's. We all want somebody else's hair. I also love Kate Moss's hair. That roll-out-of-bed look. I try to do that, but … "
2. She's loyal to her hairdresser (Living Proof co-owner Chris McMillan).
"I'll pretty much wash my hair anywhere, but I won't let anyone other than Chris cut it."
3. She has bad childhood hair memories.
"I don't like dry shampoo; I just think it's disgusting. I remember as a kid my mom would put baby powder in my hair instead of washing it. I didn't understand. I was like 'Just wash my hair!' But she was like, 'It's so long, Jen, it will take too long.'"
4. She prefers to go days without washing her hair.
"When I wear wigs in movies, I don't have to [wash my hair], which is good because I can throw some masks in. I'm also amazed how great your hair can look when it's dirty on the third day."
5. Her friends are honest with her about bad haircuts.
"My first manager introduced me to Chris [McMillan] when I was 24. She basically said that I needed a haircut because I had dumb bangs, it was just not good."
6. She's astounded by the power of hair products.
"Surf spray blew my mind. Every time I was at the beach, the curls would be more manageable and less disgusting. So I just started going to the ocean and putting the water in a spray bottle and spraying my hair with it, not realizing that this actually existed in the store. Chris was like 'Why are you going all the way to the beach?' And I was like, 'Because my hair is so much better when it has salt water in it.' And he was like, 'Here!'"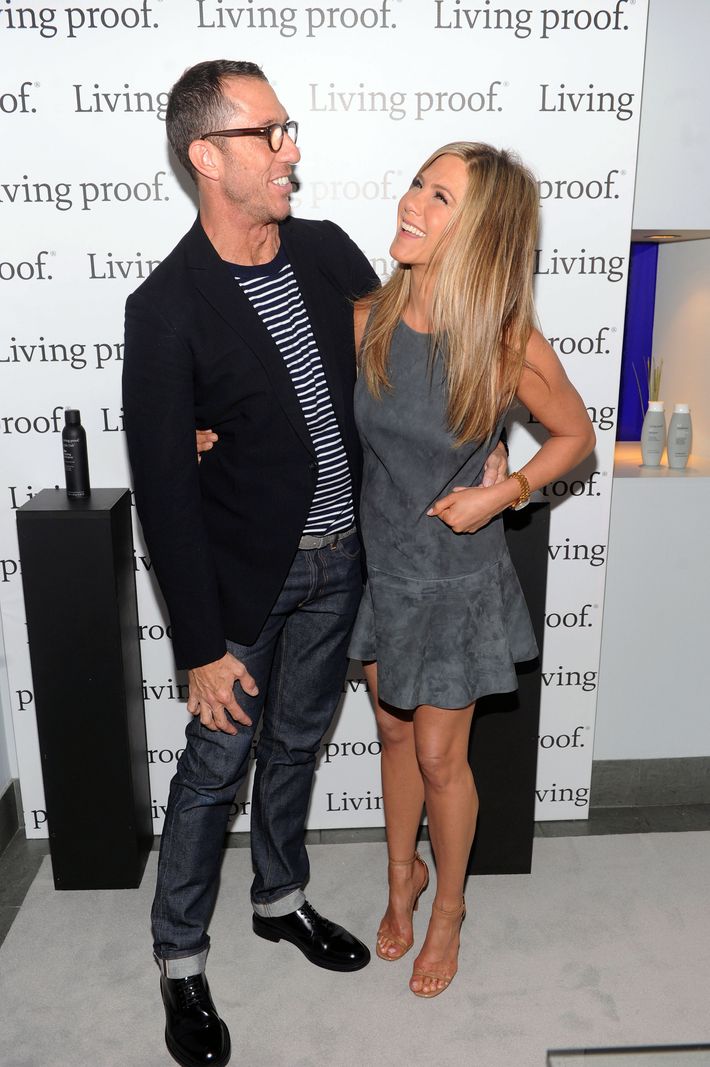 And how Jennifer Aniston is just like Jennifer Aniston:
1. She can do her own salon-style blowout at home.
"It's taken me years to learn, but I have. I use three brushes; a big round brush, a medium round brush, and a Mason Pearson brush."
2. She is part-owner of a beauty company.
"They approached me and explained to me the science and why this hair company is different. And I was like, wow, this falls into the area of life I've wanted to become more a part of — a business, rather than just being a face. So I said, 'Let me try the products for a while,' because I was going off to film a movie. About three months into it, I gave it to Chris and told him to put it in the salon, and give it to all his clients, and I gave it to my girlfriends. It is amazing."
3. It doesn't take much to make her hair look perfect.
"I'll just wash my hair, then I'll put some of these styling creams in, then I'll air-dry it for a while. Then I'll shape it around the face, go into the crown, then sort of twist or curl different pieces of it. Chris uses a flat iron on the ends."
4. She gives solid hair advice.
"Learn what is damaging to hair. Learn what hair should not be colored. Learn how to blow dry, so you don't rip hair. There are people who are really sloppy with how they start to blow dry, they don't section it and it just breaks. Just learn how to take care of hair."
See? You too can have great hair, just like your fancy, rich new friend Jen.