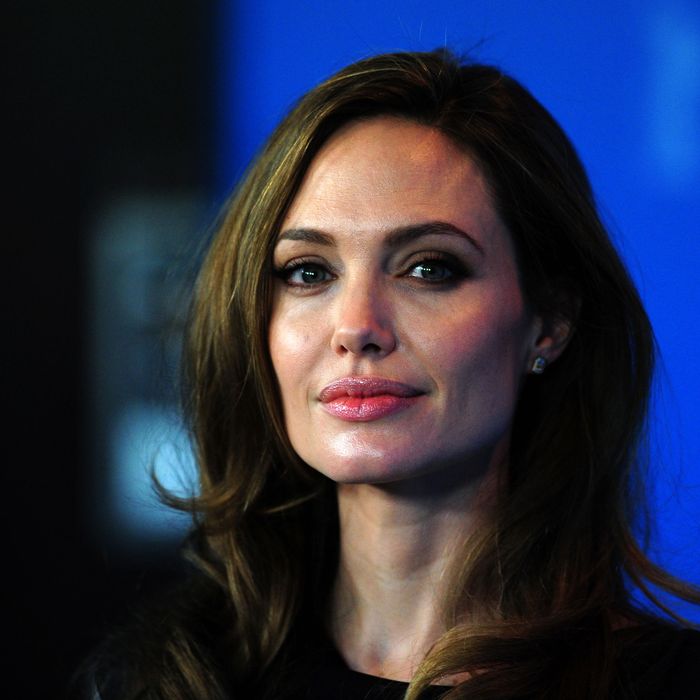 Photo: JOHANNES EISELE/AFP/Getty Images
Angelina Jolie's decision to undergo a prophylactic mastectomy, which she revealed in a frank op-ed in today's Times, has become an international news story, and the medical oncology community is already experiencing its effects. Dr. Richard Shapiro, the director of surgical oncology operations at the NYU Clinical Cancer Institute, says he's been fielding calls from prospective patients all morning. "It's an exciting thing," he says of Jolie. "A lot of women wrestle with this decision, and for her come out so openly and reasonably and be proactive is terrific." But how normal was Jolie's experience? 
1. The Genetic Test
Jolie's detailed account began with her discovery that she has a gene mutation known as BRCA1, which "sharply" increases her risk of getting breast and ovarian cancer. Although risks differ for each woman based on other genetic and environmental factors, doctors estimated hers at around 87 percent, and advised her to consider a mastectomy. 
According to Dr. Tessa Cigler, a medical oncologist who specializes in breast cancer prevention for high-risk women at the Weill Cornell Breast Center, it's standard to recommend prevention mastectomies to women who test positive for the BRCA mutation. How many of them listen? "I don't know of national numbers, but [in my experience] over 50 percent of the women who test positive for one of these particular gene mutations will elect to have a prevention mastectomy," she says.
Dr. Cigler also points out that, although BRCA mutations are strongly tied to incidences of breast and ovarian cancer, they're very rare. Doctors estimate that they only account for about 5 percent of breast cancer; in other words, just because you don't have them, doesn't mean you're risk-free. Jolie mentions this too, writing, "Only a fraction of breast cancers result from an inherited gene mutation. Those with a defect in BRCA1 have a 65 percent risk of getting it, on average."
Jolie also mentions how expensive it is to be tested for BRCA gene mutations. Dr. Cigler confirms that the test costs about $3,000, but adds that insurance companies are usually willing to subsidize the bill if a patient can meet specific criteria, such as family members who have suffered from breast or ovarian cancer. "Insurance is actually very good about covering this test, generally," she says.
2. The "Nipple Delay"
Two weeks before her mastectomy, Jolie underwent something called a "nipple delay." This is a rare step in a nipple-sparing mastectomy, and involves severing the blood vessels and other breast tissue beneath the nipple so that it's no longer dependent on the underlying tissue for blood supply. The nipple then becomes accustomed to getting its blood supply from the skin around it instead of the breast tissue underneath it (that will later be removed), which can help it survive the surgery. Jolie writes that the nipple delay "draws extra blood flow to the area," adding, "This causes some pain and a lot of bruising, but it increases the chance of saving the nipple."
Nipple delays are very uncommon. Dr. Deborah Capko, breast surgeon at Memorial Sloane-Kettering Cancer Center, says that her group doesn't even do them, explaining that they're generally not necessary for nipple preservation. Shapiro has only performed them twice, adding that they're usually reserved for patients who have had previous breast surgery:
We were actually surprised that's how they did it [for Jolie]. I don't know her anatomy or what kind of surgeries she may or may not have had in the past, but that may have a lot to do with it. When we're doing a mastectomy on a woman who has never had breast surgery before, we can remove the tissue in a single procedure [without the nipple delay] … 

Women who have had prior breast surgery, like a breast reduction or an augmentation, may want to do a nipple delay, because the blood supply is less dependable. If the nipple has been moved, as they often are in breast surgeries, there may be incisions that disrupt blood supply. We've done it in two cases here with women who have had breast reductions in the past.
3. The Mastectomy
After the nipple delay, Jolie's procedure was pretty standard. She writes:
Two weeks later I had the major surgery, where the breast tissue is removed and temporary fillers are put in place. The operation can take eight hours. You wake up with drain tubes and expanders in your breasts. It does feel like a scene out of a science-fiction film. But days after surgery you can be back to a normal life.
When asked about the "expanders," Dr. Capko described them as looking "like a deflated balloon." Made of silicone, they're placed beneath the muscle on the patient's chest. "Over the next couple of weeks, we slowly pump up the balloon with saline," says Dr. Capko. The balloon gradually stretches out the skin and creates a pocket for a permanent breast implant, but it's important that the process be gradual while the incisions heal. "If you put in an implant right away and try to close it up, the skin will be under too much tension," she says.
4. The Reconstructive Surgery
Like many mastectomy patients, Jolie elected to get reconstructive surgery:
Nine weeks later, the final surgery is completed with the reconstruction of the breasts with an implant. There have been many advances in this procedure in the last few years, and the results can be beautiful.
All three of the doctors we spoke to agree. "Now that the surgical-oncologic techniques for nipple-sparing are being refined and accepted, and plastic surgery reconstruction is getting finer, women have much more reasonable options for reconstruction," says Dr. Shapiro. For some women, the promise of good reconstructive surgery can make or break the decision to undergo a prophylactic mastectomy.
5. The Continued Risks
But even though Jolie's risk has decreased significantly, it's not entirely gone: "My chances of developing breast cancer have dropped from 87 percent to under 5 percent. I can tell my children that they don't need to fear they will lose me to breast cancer," she says. Adds Dr. Shapiro, "The risk of breast cancer will never drop to zero. We tell people [who have had mastectomies] that we still need to examine them a few times a year, and that they still need to examine themselves a few times a month." 
6. The Aftermath
As for nipple sensation and other factors, who knows how Jolie will fare. "Nipple-sparing mastectomies are still fairly new," says Dr. Shapiro. Although his group has a 96 percent nipple-saving rate, preserving color and feeling isn't always successful. According to Dr. Capko, "there's a good likelihood she'll lose sensation," although statistics on that subject remain to be seen. "It's on our long list of things to do!" she says.