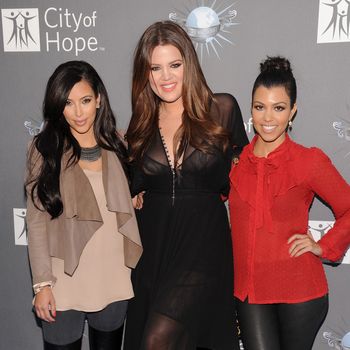 The Kardashians.
Photo: John Sciulli/2011 Getty Images
After losing a legal dispute over the name of their beauty brand, Khroma, to a Florida-based company called Kroma Makeup, the Kardashians have had to rename their line. They thought long and hard, probably talked for hours, consulted their mom, and finally decided on Kardashian Beauty. Let's face it, that should've been its title from the start. The brand's license-owner, Boldface, is obviously thrilled to put all this Khroma/Kroma business behind them. From WWD:
"Boldface, along with Kourtney, Kim and Khloe Kardashian, are looking to the future and see this change as a positive move forward," said Nicole Ostoya, chief executive officer of Santa Monica, Calif.-based Boldface. "We're confident that it's not the name that matters to our fans, but the Kardashian sisters' commitment to making this line a true reflection of their love for cosmetics."
Apparently not content with its reign over drugstore magazine sections, the Kardashian name will invade the makeup aisle soon as well. Expect its arrival in Duane Reade, CVS, and Sears in about two to three weeks.