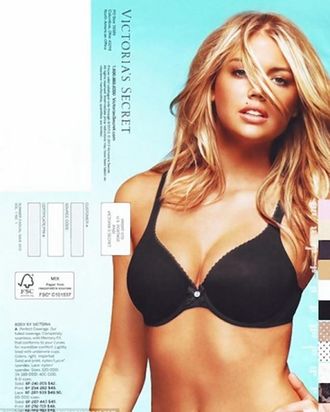 Kate Upton's Victoria's Secret back cover.
As previously reported, Victoria's Secret reused an old picture of Kate Upton, taken during a 2011 photo shoot, for the back cover of their latest catalogue. This is noteworthy because Upton has been absent from the label's promotional materials since early 2012, when Victoria's Secret casting agent Sophia Neophitou said some unkind things about Upton's appearance in an interview with the Times ("She's like a footballer's wife, with the too-blond hair and that kind of face that anyone with enough money can go out and buy").
So, was Upton's inclusion meant as a peace offering from Victoria's Secret, or was it just a ploy to capitalize on her recent successes, which now includes a Vogue cover? Current evidence points to the latter: A source familiar with Upton says that she wasn't even notified before her image was reused.
Kate is not thrilled that Victoria's Secret is using these photos. She is not contracted to work with Victoria's Secret and was not notified before the images, taken in 2011, were used.
It's customary for companies to own the rights to their promotional images and reuse them whenever they please, which means Victoria's Secret wouldn't be compelled to tell Upton about it. But doesn't it seem odd that they didn't take advantage of this opportunity to mend fences with Upton, who could potentially be a great asset to their brand?