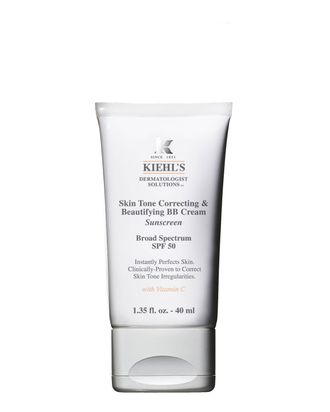 This month, Kiehl's releases their take on BB cream, the Skin Tone Correcting and Beautifying BB Cream Sunscreen with SPF 50. Some might say they're late to the game (most companies joined the BB bandwagon a few years ago), but they took their time to rigorously test and perfect their version over the last two years.
Why did Kiehl's take so long to formulate a blend that fit their standards? They wanted it to include the most potent concentration of vitamin C — known for its skin-tone correcting capabilities — without disrupting the efficacy of the other ingredients (Vitamin C has a tendency to not play well with others). The final product also includes natural mineral pigments (available in four shades), skin hydrating glycerin, and water-resistant UVA/UVB protectors. According to their clinical studies, women found their skin to be more radiant, luminous, and hydrated after the course of four weeks.
The application itself is smooth and absorbs seamlessly into the skin without leaving a caked-on or oily finish. Those of us who often experience flakiness or that gross pilling phenomenon when applying makeup found that this cream spread smoothly and easily. It also sits nicely on the face all day, providing even coverage without any chalky sunscreen residue. While the cream is technically fragrance-free, it does give off a subtle, familiar scent of sunscreen creams — which, now that it's spring, is a welcome smell indeed.
Kiehl's Skin Tone Correcting and Beautifying BB Cream Sunscreen with SPF 50, $37.