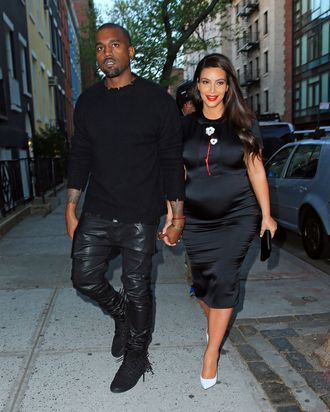 Photo: Jackson Lee /Splash News
As the glitterati descends on the Metropolitan Museum of Art, the first mystery of this year's Costume Institute Gala has been solved: Kanye West and Kim Kardashian will be in attendance, apparently with a personal blessing from Anna Wintour. Last year Kanye attended solo, sparking rumors that the Vogue editor had imposed a Met Ball ban on Kardashians.
But Us Weekly reports that Kim and Kanye attended an "intimate dinner" at the Vogue editor's New York home last night. Kardashian wore a dress from Wintour's beloved Prada for the occasion. (Suck up.)
So what happened at the Great Kimye-Wintour Supper Summit? Did Kim kowtow? Did Kanye bargain? To gain entry to last year's gala, Kate Upton had to pay a personal visit to Wintour's Vogue office. There, she kissed the ring and "offered to pay for her own ticket … whipped out her checkbook and paid $25,000 for her seat." Perhaps Kim took a page from Kate's playbook? Does this mean Kanye is going to perform tonight?
And what will Kim wear? Consult the Kim Kardashian Look Book and place your bets below. Smart money is on "uncomfortable leather maternity bustier," but I've got my fingers crossed for something sweeping and beatific.