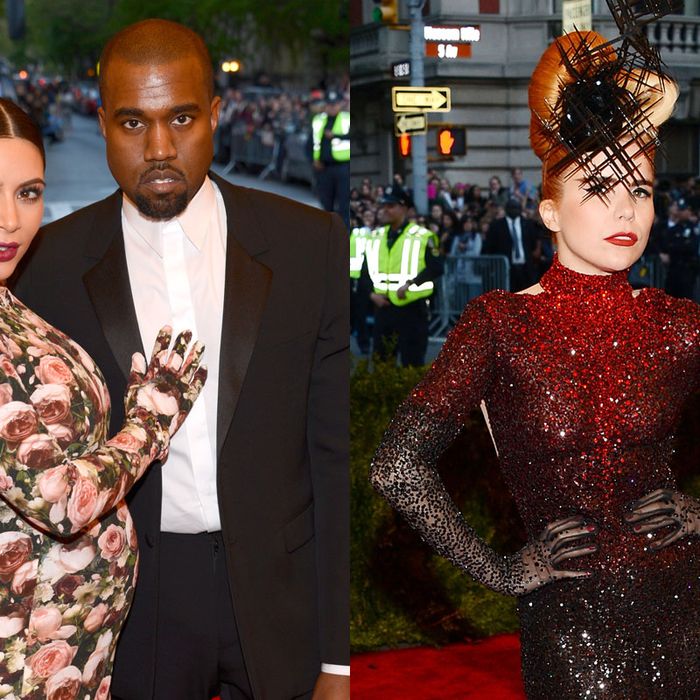 Much ado has been made about the floral Givenchy glove-sleeves Kim Kardashian wore to last night's Met Ball. Most people hated them, but there are two important contextual details to note: First, Kim was not the only glove-sleeve (gleeve) wearer last night. British singer Paloma Faith wore them, too. Second, Kim's gleeves played a cruel joke on her, thwarting her ability to execute the traditional pregnant-lady-rubbing-her-belly red carpet pose. Every time placed Kim hand on her belly, it disappeared. The floral print camouflaged it.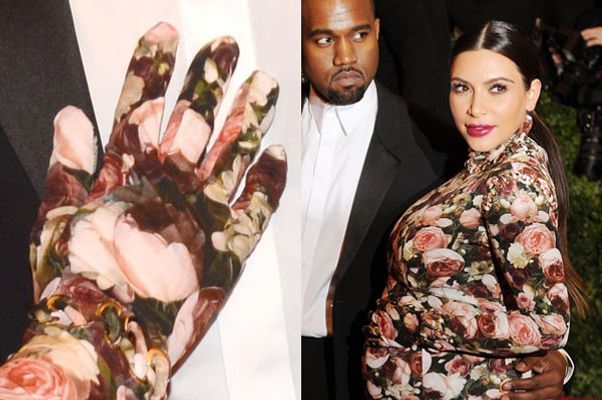 Was designer Riccardo Tisci playing a cruel but witty joke on Kim, thwarting her ability to pose at the most pose-worthy event of her year, an event she is believed to have fought long and hard to gain entry to? Or did nobody consider how floral-camo glove-sleeves, when cradled against a pregnant woman's belly, would turn her into an armless lump? Is Kim in on the joke, transforming her entire body into a tumorous, mottle-hued mass as a performative protest against the tabloid press, which turns her natural pregnant form into a source of body horror, the most banal corporeal freak show on earth? What if Kim Kardashian has a brilliant mind for red carpet semiotics?
Of note: Kim wore floral Prada to meet Anna Wintour before the gala. And Anna, like Kim, wore a pink-and-green floral print to the event. Do you think they planned to be twinsies?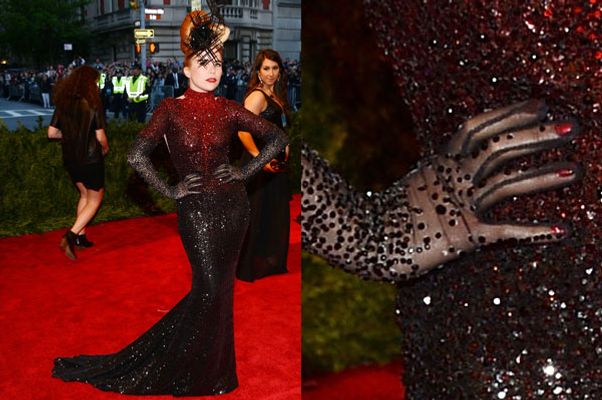 Singer and hairdo revolutionary Paloma Faith, meanwhile, wore a Swarovski glown designed by Dubai-based Filipino designer Michael Cinco. Gulf News reports that Paloma "paired her dress with a Philip Treacy hat but seemed to have ditched the massive train that was seen at Cinco's Russian Czar-inspired show at the recently-concluded Fashion Forward event in Dubai." Crystal-studded, czar-inspired gleeves from Dubai! So unlike Kim's gleeves, and yet, so similar.