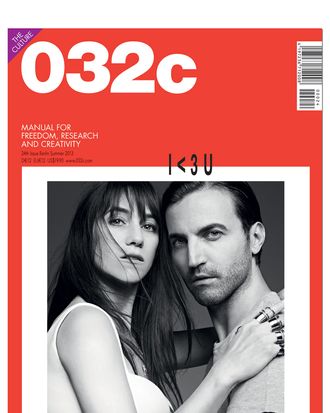 Charlotte Gainsbourg and Nicholas Ghesquiere.
Photo: Courtesy of 032c
German magazine 032c has devoted its cover and 38 pages of its summer issue to former Balenciaga designer Nicolas Ghesquière, calling the feature a "monument" to Ghesquière's final spring 2013 season. It's a hefty tribute indeed: There's a thirteen-page Q&A between the designer and Pierre Alexandre de Looz, a fashion editorial starring Ghesquière muse Charlotte Gainsbourg and styled by Marie Amélie Sauvé, and a meaty story by De Looz about Ghesquière's fifteen-year tenure at the house, bolstered with reverent quotes from major industry figures like Grace Coddington, Eric Wilson, and Hamish Bowles. It's a long read, to say the least, but full of interesting tidbits about Ghesquière's ideas and the history of Balenciaga.
But let's cut to the juicy part: Kristen Stewart, a friend and "ambassador" of Ghesquière's, contributed several F-bomb-laced quotes to the piece. She tells De Looz:
He is a reminder of how fucking annoying everyone else is. It's not easy to walk a line that not every single person in the world is going to get in a second. Nicolas is the sort of person who loves swimming in rough water … 

I've felt the happiest I've ever felt wearing these clothes. I've also felt androgynous and rigid. Sort of like you're wearing a fucking building.
She also recalls the moment after his final collection for Balenciaga, when he told her he was leaving the house:
I was like, 'Dude, are you okay?' and he was like (in a French accent), 'Yes. Yes. I will tell you soon, but there are things happening.' Before I left, he was like, 'All right, I'll tell you.' I'm so fucking proud of him because what he was about to do would rock people's worlds. He was just like, 'Believe for me.' I thought it was the coolest fucking thing.
032c also gave the Cut an exclusive additional quote from Stewart:
The look on his face after that show, he had this look like he was actually the kid who was being told he wasn't allowed to do something. And he was totally not going to stand for it, and I was like, 'I will totally run away with you.'
And so she has, apparently! Alexander Wang, the label's new designer, has yet to dress Stewart since he took over the brand. They also have some awkward history: Wang famously expressed his loyalty to Liberty Ross, the wronged woman in Stewart's cheating scandal with film director Rupert Sanders last summer. This article skirts the issue, simply describing her as "an ambassador for the brand's second new fragrance Flora Botanica."
UPDATE: A source has confirmed that Stewart is still "very much involved" with Balenciaga, and has already shot several new fragrance campaigns with them.
In fact, for all the feature's thoroughness, it leaves many questions unanswered. Like, what does Ghesquière think of his successor? And for Pete's sake, what is he going to do next? He says he's gotten many offers, but he's coy about his next move:
Ideally, I'd like to give myself a six-month break, to travel and discover things. I'm not sure it'll happen because some interesting projects are on the horizon … Given the projects and the offers I have on the table, the trick is to think about what is most inspiring, what can become a new way of working …  

I'm preparing something, but I have choices to make. I will announce something when I am ready.
With Stewart, Sauvé, Gainsbourg, and the rest of his loyal team onboard, no doubt. Stay tuned.