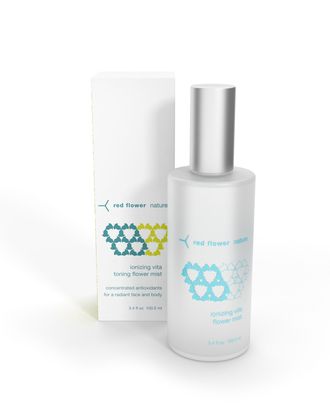 Imagine you wake up one hot, sticky summer morning to some of that omnipresent morning rain drizzling outside. Then all of a sudden, you hear Aretha's Natural Woman in your head as you open your medicine cabinet (the first verse is starting to gain momentum) and then you spritz Red Flower's Ionizing Vita Toning Flower Mist all over your face, and everything kind of feels all right. Instantly cooling and herbal-scented, the miracle mist is made with 100 percent organic and natural ingredients. A blend of eleven essential oils and hydrasols (concentrated flower water) — from juniper berry to tangerine and rosewater — boosts the skin's cellular renewal properties, as well as reduce inflammation.
Hold the pale blue glass bottle about an arm's length away from the face (but at a slight angle above your head) and give it a few pumps. Let the ultrafine mist fall onto your skin. Its gentle formula can be sprayed onto the skin after your morning (or evening) cleansing sessions, prior to moisturizer applications. However, its lightly hydrating, antioxidant-rich formula can also be spritzed on your face at various times during throughout the day, especially when you feel like your complexion needs a revitalizing boost (great for long plane rides or when makeup looks a bit wilted).
I welcome this new addition to my daily repetoir, despite the additional step in my already pared-down skin-care routine. I'll also keep it in my bag for a quick spritz following a hot yoga session.