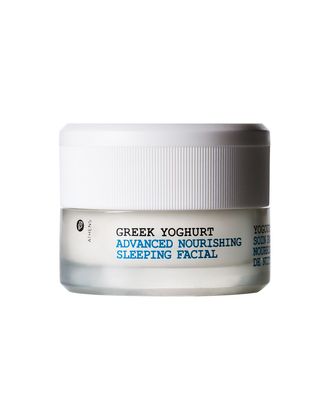 The newest addition to Korres's already popular Greek Yoghurt collection is the Advanced Nourishing Sleeping Facial. The company's Greek yogurt concentrate has two and a half times the amount of proteins usually found in your basic yogurt, which means it won't only improve your skin — but doubly so. After you cleanse, pat dry, then slather the thick moisturizer all over your face and neck, you go to sleep (it works in conjunction with your body's natural turn-over process). By morning, your complexion should look smoother, softer, and more hydrated.
The texture of this cream is soft and silky and possibly no different from your average night cream. Despite its thickness, it'll collapse and melt into your skin quickly and won't leave a greasy slick of product behind. You'll immediately feel a slight cooling and tingling sensation as the stuff — loaded with nourishing vitamins and minerals — begins to penetrate your dermal layer.
The scent is also soothing because it closely resembles the smell of clean, fresh laundry. It instantaneously had me imagining myself lying on a pile of still-warm-from-the-dryer sheets, which possibly expedited my bedtime process. I was ready to accept the cream's reparative capabilities.
Korres claims that users should see noticeable differences in their skin by morning. Mine appeared to have reaped the yogurt concentrate's hydrating benefits; the patch of dryness located in the center of my forehead, like an archipelago of flaky-skin islands, was not as visible. I've never really had a texture issue, so I can't admit to having smoother skin. But I do appreciate how soft and supple my cheeks felt. I might even pull a card from celebrities who live their fancy, rich lives and dunk my hands and feet in this $45 jar of cream each night for mega-soft skin. Korres says the stuff is gentle enough for daily use on the face, but I'll probably save it for emergency dry-patch moments and lengthy, skin-parching plane rides.