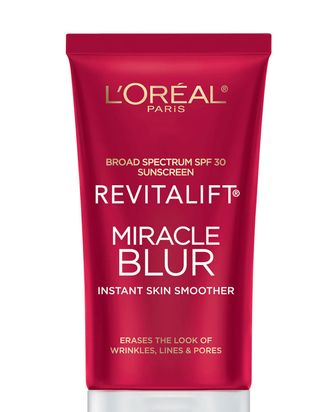 Photo: Courtesy of L'Oreal
L'Oreal's Miracle Blur doesn't call itself a moisturizer or a primer, but an "instant skin smoother." This $25 tube of silicone-based cream is meant to act like a primer, though: It smoothes out fine lines and wrinkles and gives complexions a matte finish, plus has broad spectrum SPF 30 protection.
Just like any other primer, this formula gets applied to skin following your regular moisturizer. If you wear makeup, that'll be layered on top of the Miracle Blur. While white in color, it glides transparently onto skin. But after applying it, tiny bits of Miracle Blur balled up on my face like gummy, white eraser shavings. Trying to wipe it away with a tissue didn't make it any better (since bits of Kleenex also tended to cling), so I had to use my fingertip to "blot" off any product remnants. When I followed with a tinted moisturizer, I was surprised to see that everything remained intact and smooth.
While the cream itself delivered an easier surface to apply makeup (no signs of dry, rough patches) and gave my cheeks and chin a less pore-dimpled appearance (due to its soft-focus after-effect), I'll have to use another moisturizer as the base next time.