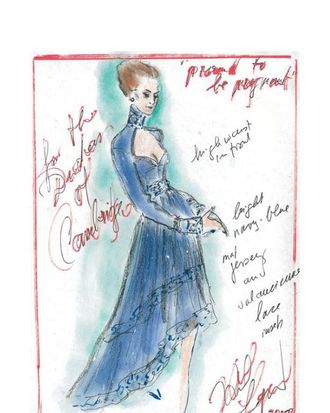 Karl Lagerfeld's design for Kate Middleton.
Photo: Karl Lagerfeld/WWD
Today's WWD has a roundup of maternity-wear recommendations for Kate Middleton from designers like Andrew Gn and Amanda Wakeley, who have outfitted her before, and Karl Lagerfeld, who has not. "I think this dress is very much in her taste," says Lagerfeld of the sketch he contributed, which features a regal-looking high-necked gown with a mullet hem and plunging cutout over her décolletage. (Kate would never.) Yes, lots of moms-to-be love to show their boobs because when you've got 'em, you might as well, but Kate is not one of these women. Indeed, she hasn't been wearing much in the way of maternity-wear at all, opting instead for looser, boxier clothing and stretchy fabrics.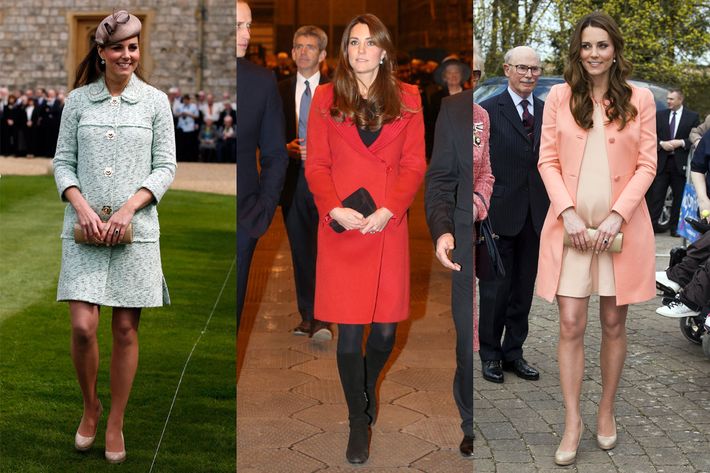 WWD also notes that plenty of women don't buy a whole new wardrobe when they get pregnant, for reasons of style as well as expense. This is hardly a new phenomenon. Of course, there are some cons to squeezing one's belly into regular sizes (ahem), like general discomfort. But Kate gets most of her clothes tailored, including her inexpensive Topshop purchases, so even when she's wearing non-maternity clothes, it's likely they've been altered to fit whatever stage of pregnancy she's in. Chances are she won't be a Pea in the Pod poster girl anytime soon, nor will she be indulging Lagerfeld's cleavage fantasies. Instead, she'll just keep dressing the same way she normally does, and that's a good thing.